Kathryn's presentation of yoga asana (poses) has always been inspiring to me.
Her ability to appear so graceful and beautiful in the most powerful balance postures is pleasing to both the eye and heart, calling forth the yogi in me to roll out my mat and get to work on my sadhana. This year at Wanderlust Squaw Valley, I was blessed to take her advanced-level class and I was pleasantly surprised with her personality and the confidence present in her teaching style. She is charming yet witty, strong yet from the heart, practical yet poetic, and a powerhouse in a tiny little package (TLP)..!
Lucky for us, Kathryn's new DVD Aim True Yoga from Gaiam aims true to her personality and is a wonderful resource for yogis in the beginner and intermediate levels. The DVD features a beginner practice, an intermediate flow, and a workshop-style breakdown of key balance postures to help us yogi's take the next step in our practice. Highlights from the intermediate flow include fun vasisthasana variations, unique warrior sequencing, and lots of handstand prep-work, all interwoven with inspiring intention. Not too much, not too little, just enough, and tasteful indeed.
Furthermore, there's an interview with Kathryn so the viewer can get to know her better and a bonus downloadable core-workout.
Aim True Yoga is available for purchase at gaiam.com.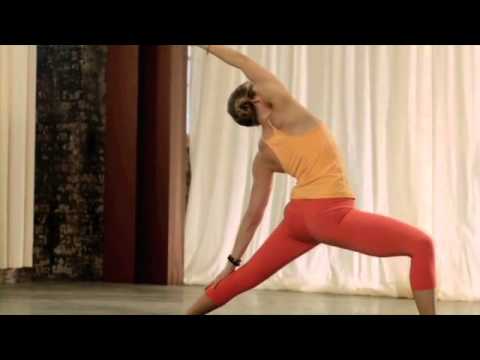 ---
Incorrect source, offensive, or found a typo? Or do you want to write for Elephant?
Ryan combines his passion for the "yogic" sports (rock climbing, snowboarding, surfing, skateboarding), his love of musical exploration, and his dedication to a healthful lifestyle, living yoga in all aspects of his life. He is certified in Prana Flow Vinyasa Yoga by the amazing teacher Shiva Rea and draws from his studies in Qi Gong, Ashtanga Vinyasa, Buddhism, Bhakti Yoga, and Trance Dance to lead fun, creative and powerful classes with wild tantric explorations into the present moment. He teaches vinyasa classes at Divinitree Yoga and Art Studio in Santa Cruz, California (divinitree.com). Ryan also leads ecstatic kirtan and has been performing tabla and mridanga with kirtan leader Jacob Duran in the Santa Cruz kirtan community since 2009. He has worked as a journalist and photojournalist for Climbing Magazine, the Colorado Daily Photo, 808 Scene Zine, and the Elephant Journal.