A Parrot Parable.
This is a story of wild Monk Parrots, indigenous to the tropical climates of South America, living on the utility poles of Edgewater, New Jersey. Yes, New Jersey.
Edgewater is a bedroom community of NYC, just across the Hudson River. It boasts gorgeous panoramic views of the George Washington Bridge, New York City skyscrapers and the infamous parrots. Rumor has it that in the late '60's, a damaged crate of black market birds escaped from JFK Airport. Fast-forward 50 years, and the parrots—almost 300 in number—have thrived. The mornings are the best time to find them and catch their song. Squawking, swooping, playing—right in my backyard.
Most of the residential buildings in Edgewater are condominiums. The parrots have adhered to the zoning codes. They build their nests, up to four feet long, in the trees and utility poles lining the river. They are quite a nuisance to the local power company. PSE&G determined that their nests were a potential fire hazard. After much citizen outcry, the power company has decided to call a truce. They no longer knock down the nests.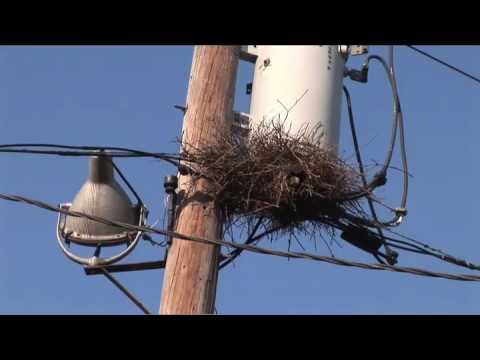 What does the story of the Monk Parrots have to do with spirituality, yoga and enlightenment? Everything. Take a look at the story. It seems impossible. Tropical birds, released into a suburban environment. No food source, no sultry weather conditions, pollution and people—lots of people.
But, they survived, against logic, against all adversity. When we are faced with difficult choices, often times we retreat. We go inward. While that has it's benefits, we can only stay there for a short while. Then we have to make decisions. Usually there are two paths we can take. Abandon it all or stand up and embrace it for all it's worth. Figure out a way to live, and live it, to the fullest extent. And here it is, if those parrots can carry on, against all odds, why can't we?
Take a ride down River Road, open your sun roof, listen for their chorus, look for their nests. Remember this story. Knit it into your memory bank. They shouldn't have survived—but they did.
~

Editor: Kate Bartolotta
---
Incorrect source, offensive, or found a typo? Or do you want to write for Elephant?