Dippy, outdated 50s views should go with dippy, outdated 50s music.
Apparently, the band Rage Against the Machine is raging against Paul Ryan for citing them as his favorite band, since they disagree with his politics. I'd take that a step further—shouldn't Ryan be a fan of music from the era his policies would resurrect?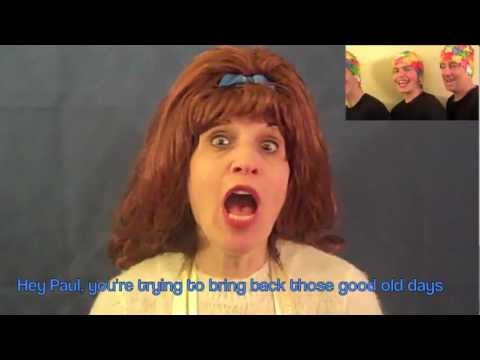 Lauren Mayer is a singer, songwriter, comedian, and nice Jewish girl who channels her challenges into songs. She has released two albums of original comedy songs for women (dealing with aging, sleep deprivation, the joys of perimenopause, child-rearing, and more) and one album of Chanukah comedy songs, as well as three albums of critically acclaimed kids' music, and she has written and performed hundreds of customized shows for private parties and corporate clients ranging from Wells Fargo and Hewlett-Packard to the California Funeral Directors. Lauren is a five-time recipient of the San Francisco Cabaret Gold Award, a published musical theatre composer, and a Phi Beta Kappa graduate of Yale. Despite all these accomplishments, Lauren's mother still doesn't understand why Lauren didn't go to law school. Watch more from Lauren on her YouTube channel, or visit her web site.

~

Editor: Jayleigh Lewis
Loved it? Leave a tip!
4 Responses to "Hey, Paul! {Video} ~ Lauren Mayer"