It's a hugely important, magnificently astounding, and most-noteworthy sort of day.
So, just why the hell is this day so damned important?
*drum roll*
Because, it's elephant's very own, and most magically brilliant, Kate Bartolotta's birthday today!
(imagine fireworks going off here)
And, in honor of her most special day, we are all going to take a little moment out to let her know how very much she means to all of us.
Here are the top 10 reasons why Kate is so incredibly awesome:
1. She loves 'fat, buttery words' and knows just exactly how to use them.

2. She does cool shit like this, to let us know how much she cares:

3. Because she's a 'Super Hero' sort of powerful, and isn't afraid of taking stands like this: Kate's Candy Stand.

4. She's magical…like, freakishly magical. Because, there's no other logical explanation for a post to be edited, prettied up, and posted before the author has finished hitting the send button.

5. She always lets us know just how very much she loves us, by doing all the wonderful little things…like letting us know we don't suck, or sending us candy via snail mail.

6. She writes the best articles ever. And, covering all sorts of cool interests and areas. Like, yoga or being naked. And, how does she find the time to do all this editing and loving and writing and carrying on? See, 'Why Kate Rocks our Elephant World' point number five.

7. Because, she 'gets' goat humor. I don't believe I need to say more or less on that topic.

8. She really is the love child of a pirate and a roller derby queen.

9. She's way smarter than all of the rest of us, but she'll never let us know it. Unless you're a meanie Facebook commenter, in which case she will unceremoniously and without hesitation 'rip you to all kind of word-shreds.'
and, finally… and this one is just from me (you all can add your special sappy comments in the appropriate comments section below)…
10. Because, on days when I'm feeling particularly overwhelmed and unable to write…she gives me just the right 'nudge' to show me I can.
So, thank you Kate for being all of the above, plus the bazillion comments that I am sure will show up below.
And now, for a completely unnecessary, but still quite funny, goat video: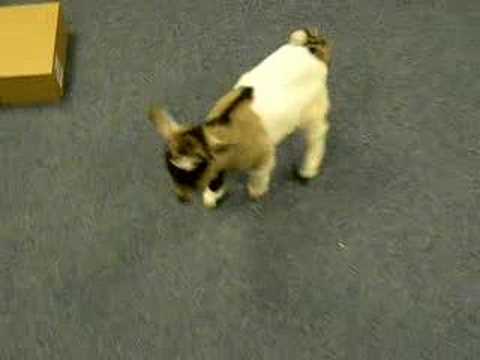 Ed: Bryonie Wise
---
Incorrect source, offensive, or found a typo? Or do you want to write for Elephant?
Tara Lemieux
is a mindful wanderer, and faithful stargazer. Although she often appears to be listening with great care, rest assured she is most certainly forever lost in thought. She is an ardent explorer and lover of finding things previously undiscovered or at the very least mostly not-uncovered. When she's not writing, you can find her walking in the woods and sometimes changing the way we look at things, one simple moment at a time. If after all of this, you still wish to seek Tara out, you can contact her at
www.taralemieux.com
, OR read her
SUPER-AMAZING DAILY blog
or, take one second to "LIKE" her on Facebook at
Tara's Facebook Page
. Or email her directly at
tara@taralemieux.com
. All roads will lead to one home, and rest assured she (and Nudnick, the wonder dog) would LOVE to hear from you.