25 feet in a single stride!? Nature, you so wow. 75mph >>>——> 120kmh!
It's [1080p] fyi: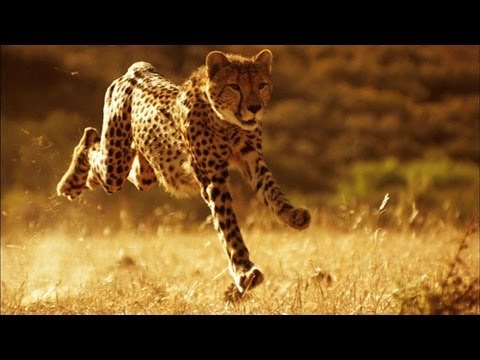 With a flexible spine and feet like tire treads, the cheetah is built not only for speed – but for unrivaled acceleration.
A Cheetah running at 75mph. Notice the stability of its head at that speed in slow-motion:
"I think the most impressive thing about that video is the counter on upper left hand side. It's unbelievable how many strides the cheetah took in 1 second."
-Winner of the 2013 National Magazine Awards for best Multimedia piece of the year-
Cheetahs are the fastest runners on the planet. Combining the resources of National Geographic Magazine and the Cincinnati Zoo, and drawing on the skills of an incredible crew, we documented these amazing cats in a way that's never been done before.

Using a Phantom camera filming at 1200 frames per second while zooming beside a sprinting cheetah, the team captured every nuance of the cat's movement as it reached top speeds of 60+ miles per hour.

The extraordinary footage that follows is a compilation of multiple runs by five cheetahs during three days of filming.

For more information about cheetah conservation, visit causeanuproar.com/
Loved it? Leave a tip!
One Response to "With Faster Acceleration than a Ferrari."