get elephant's newsletter
Robin Kornman was a jolly fat Buddhist scholar, playboy and charming teacher. He was my first meditation instructor, when I was six or eight and preferred playing Robin's archaic video games on his then-high-tech 80s desktop PC…to hearing about the Buddhist saints or how to meditate.

Robin died a year or so ago, leaving unfinished his translation of the endless Tibetan epic about a warrior king (the Tibetan version of King Arthur, sorta) named Gesar of Ling who, when he wasn't killing vast hordes of enemies, had something to do with Buddhism, or at least fearless cool blood-curdling warriorship.

As a child I read a book about his life—it was about as fun to read as Tolkien or whatever Sci Fi I was into.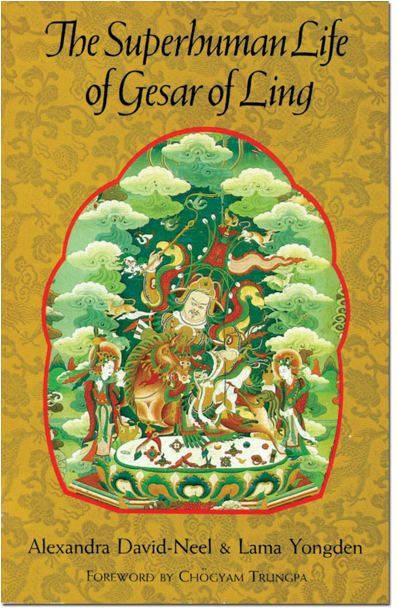 The following letter is via Bill Karelis:
"I am very pleased to announce that the Robin Kornman Collection of approximately 1,600 Buddhist books, and other volumes related to the Gesar Epic, as well as his scholarly notes, has been installed as the seed of an eventual research and lending library at Tashi Choling in Ashland, Oregon (near the California border).
Tashi Choling was founded by the great Nyingma master, Kyabje Dudjom Rinpoche, in 1980.  He asked the Ven. Gyaltrul Rinpoche (now 86 and as iconoclastic and highly amusing as ever), to make this land a place for meditation retreat and made several prophecies about the qualities and energy of the envirnment. Gyaltrul Rinpoche has spent the last 30 or so years performing this mission. The result is a meditation center and sangha which adheres to the ancient Nyingma tradition and carries on regular practice retreats in the Dudjom Tersar, Longchen Nyingthig and Palyul traditions. Tashi Choling is truly a place of peace and depth, which our sangha members reading this may wish to visit at some point.
Gyaltrul Rinpoche's principal western student is Sangye Khandro, the excellent and accomplished translator, who, in partnership with Lama Chonam and Jules Levinson, formed the Light of Berotsana Translation Group in 1999.   Sangye and Lama Chonam have committed to finishing the Gesar Epic, which was Robin Kornman's principal life work (Robin passed away last year); they translated together for many years in Milwaukee and Portland, Oregon.  So there is a special relevance to the Robin Kornman Collection going to Tashi Choling, as Robin's Gesar Epic will be completed and sent to publication from that seat.
Robin'sfasb book collection is quite astonishing, in that it reflects the interests and character of man.   Among the Buddhist books now finding their home at Tashi Choling there are about 200 Tibetan texts (pechas), as well as about 100 books in Chinese, about 60 in French, and others in Russian, German, Sanskrit, Mongolian and Pali, all of which Robin could read in the original at some level of comprehension.    (Among my favorite non-Dharma books, which we could not, unfortunately, included in the Dharma collection, were the Japanese comics, Greek tragedies, Chinese romance novels, Italian opera librettos, and the musical scores of many German composers, all in the original languages.)
On behalf of Robin's sister, Cam, who very generously agreed to the installation of the Robin Kornman Collection at Tashi Choling, I am delighted to proclaim this gift in Robin's name, for the education of present and future students of the Dharma.   The Tashi Choling Board of Directors, under Gyaltrul Rinpoche's guidance, has very kindly accepted this donation under the condition of keeping the collection intact in perpetuity and tending it well for the use and enjoyment of all.
Anyone wishing to donate to help defray the costs of gathering, cataloguing and maintaining the collection would be welcome to send a tax-deductible donation to:
Tashi Choling
(c/o Robin Kornman Collection)
PO Box 64
3001 Colestine Road
Ashland, Oregon 97520
With deep appreciation for all that Robin did for the Buddhist and Shambhala teachings, Bill Karelis"