get elephant's newsletter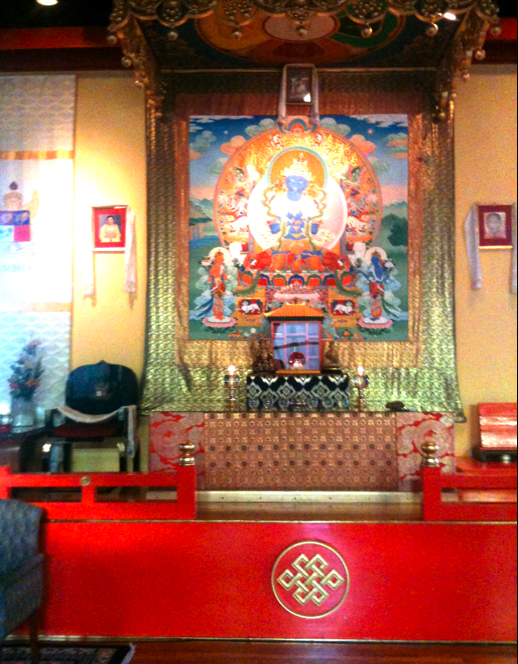 Impermanence and Lineage: a Koan.


I just received these two letters to my Shambhala community. Personally a bit disappointing, but change is inevitable, and often positive of course. Still, the beauty, history and lineage that goes with the Vajradhara Thangka will be missed. Passing this on, on behalf of our dear Center Director, Ulrike, who is awesome and very sweet and mindful of concerns. ~ Ed.
Letter One:
Dear Sangha,
We are closing our Main Shrine Room on November 28th for the long-planned renovation, during which the Vajradhara Thangka will be repaired and removed from the Main Shrine.  When the remodeling has been completed, by Shambhala Day 2011, the new Rigden Thangka will be installed in the shrine room.  Many of us in the community feel a strong connection with the Vajradhara Thangka, which has been part of our mutual journey with Chögyam Trungpa Rinpoche and Sakyong Mipham Rinpoche thus far.
Thankfully, we have received detailed instructions from Sakyong Mipham Rinpoche, who has expressed his love for the Vajradhara Thangka.  He emphasized the importance of respecting this lineage treasure of Shambhala.
To this end, Ann Shaftel, an art restoration specialist from Halifax, will travel to Boulder to help us with this important task.   Ann will repair the Thangka in places where the brocade is torn, and help us to preserve and store it properly.  The Thangka will then be transported to a temperature-controlled storage space in Halifax until its final location is determined.
During this process we will take high quality photographs of the Thangka that will be made available to individuals in the near future.
The Boulder Acharyas and Shastris have offered to guide practice sessions with the Vajradhara Thangka in the Main Shrine Room.  These sessions will provide us all time to contemplate the changes we are undertaking as a sangha, and to appreciate how our lineage—past, present, and future—is continuing its heritage.
Please join us for one or all of these practice sessions Monday, November 22nd, Tuesday 23rd, or Monday 29th from 7-9 in the evening.  All are welcome to participate.
Yours in the Dharma,

Ulrike Halpern, Center Director
Jesse Grimes, Kalapa Envoy
Acharya Judith Simmer-Brown
Acharya Dale Asrael
Acharya Gaylon Ferguson
Shastri Dan Hessey
Shastri Holly Gayley
Shastri Samten Kobelt
Letter Two:
Dear Sangha,
I am happy to send you information about the exciting renovations to our Main Shrine Room in Boulder, which I have been planning for the past year along with community members and the "Design and Building Committee".   For years there have been plans to remodel the Main Shrine Room, and we are happy to be in a position to make these improvements.  By doing these renovations we will become far more energy efficient, and will have a more uplifted space for practice and larger gatherings.
The renovations will begin in early December, therefore the Main Shrine Room will be closed from the evening of November 28th through Shambhala Day 2011.  The renovations will include:
·       Installing an insulated ceiling
·       Installing new lighting
·       Widening the stairs
·       Widening the entry to the Post-Meditation Hall and the Main Shrine Room
·       Installing new storage/chopon closets
·       Remodeling the bathroom on the landing, and the small bathroom next to Kalapa Suite
To fund these projects we have taken out a loan for $200,000, at a very good interest rate.  The loan repayment is set at a manageable monthly amount, which coincides with our intention to focus more on stable ongoing financial planning.  Our current membership campaign seeks to build a strong foundation for necessary projects like this.
While the Main Shrine Room is under construction, our programs will be held in the Shambhala Training Hall and the Community Room.  This will be a big undertaking, so please help us out by bringing any questions or concerns to our attention.
Our intention is to keep you well informed of the progress of this remodel.  We have started a blog on our website where we will post regular updates on this process.  Please bookmark our blog to stay updated:  http://boulder.shambhalatimes.org/.   In December, we will also have an information board at the center, where you can see pictures and updates on the renovations.
Yours in the Dharma,
Ulrike Halpern
Center Director