get elephant's newsletter

A Twittering Monk.
Give Me That Old Time (Vajrayana) Religion.
Having spent a year in the Twitterverse, it's been an eye opener for me how much interest there is in Buddhism, and in particular, the aspect of Buddhism that is practiced in Vajrayana or what's commonly referred to as "Tibetan" Buddhism.
The Vajrayana path rests on one principle and can be expressed in one word: View. The point of Vajrayana practice is to actually realize or accomplish (not intellectualize about) the emptiness of all phenomena.
This is what I try to keep in mind as I am opening up my Tweetdeck program. Some days I am successful in practicing View as I tweet, other days it's as if the concept had never been taught to me. My Teacher and true Spiritual Friend, Jetsunma Ahkon Lhamo, calls this the "rubber band" mind: stretch and snap back based on our habits of mind. So I set my intention daily, do my practices and trust in her wisdom that over time View will become effortless.
Back to the present: why is a monk on Twitter? There are many reasons for me not to be. An argument could be made that tweeting is inconsistent with my vows. The head of our Palyul lineage, His Holiness Karma Kuchen Rinpoche, has chosen explicitly not to be on Twitter (the tweets that you may have seen from @karmakuchen have been tweeted by an imposter). He said there is too much talk there. A reason to be on Twitter would be to teach, but I am not a teacher, so I can only share personal experience. No wisdom mind here. I could use my time to debate with others some obscure (or sometimes not so obscure) point of Buddhadharma, but what is the point of that other than to indulge the habits of mind that I am trying to purify? So on the intellectual front I am somewhat of a buzzkill for those who do enjoy that type of engagement.
I am on Twitter because my teacher is on Twitter. Jetsunma Ahkon Lhamo has always been, and always will be, a trailblazer for Vajrayana in the West. She was the first woman recognized as a Tulku (consciously reincarnating being that chooses deliberate rebirth in time and place). She was recognized in the mid-1980s by His Holiness Penor Rinpoche and enthroned as a Tulku in 1988. Together with His Holiness Penor Rinpoche she established a Temple in Poolesville, MD that has been Holiness' seat in the West; built dozens of stupas including three 36-foot stupas, and two 22-foot stupas. She has written and recorded original music, gave her blessing for more than 60 Westerners to take ordination in the Palyul lineage; gathered sangha, ordained and lay, throughout the US, Canada and Australia; started animal rescues and animal sanctuaries; taught prolifically leaving for us a treasury of Dharma teachings. Her most recent endeavor has been to get on Twitter.
I recall that Jetsunma checked out Twitter for about a month, just watching how it works and doing some tweeting, then said,
"there is potential to reach many beings through Twitter who otherwise may not be able to connect with Dharma in this lifetime. I am going to use Twitter to reach students."
I am not sure what is in the giving of a name at ordination, whether latent qualities are recognized, but His Holiness gave me the name "Gonpo Yeshe," which roughly translates to "Protector of Dharma Wisdom." To me Jetsunma is Dharma Wisdom, so to a large extent my response to her going on Twitter was to follow her as a support and, if need be, protector.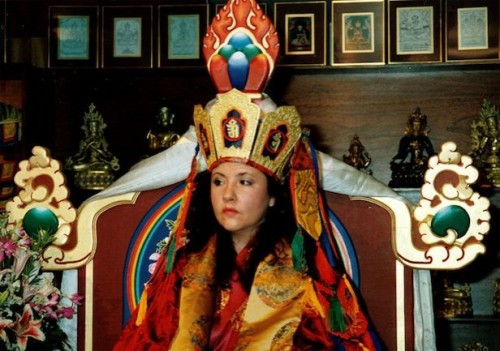 At this time, female + Tulku + assertive (which Jetsunma is) = controversy.
Like a theorem in geometry class, that formula has always been the case for Jetsunma. Whether it is that she didn't cut her hair, or that she paints her nails, or that she hasn't studied in a monastery, or her spoken Tibetan is rough, or that she pays hommage to her Guru in one tweet and then drops the "F-bomb" in another—people react to her. Recently, sadly, this has developed into a situation that may be on the brink of becoming violent with threats, bullying and an orchestrated campaign of slander. I imagine that as the reactivity has mounted, she has reconsidered whether to be on Twitter. So far she has stayed put, I imagine, because she is accomplishing her purpose by reaching more and more people daily and providing them a connection to Dharma.
I intend to be on Twitter with her as long as I can be of service.
I have learned a lot during this last year on Twitter. My admiration for Jetsunma has grown as I have witnessed her steadfast commitment to end suffering unfold in the face of various obstacles. She's taught me a lot by her example of selfless love. Because I am not attending in her personal household, I do not have daily contact with her, but Twitter has opened up a new opportunity for contact. Twitter has also given me the opportunity to challenge latent concepts of what I am doing as a Buddhist monk.
Vajrayana View as I understand it essentially asks that we drop our preconceived notions, recognize our reactions and why they arise from an internal perspective. For example, I always get a little bit interested, excited, when I see a hot, fresh Krispy Kreme donut. Is that because of the donut? Probably in part, but mostly it is because it is my habit to like a hot Krispy Kreme donut. That desire, the reaction, comes not from the donut to me, but arises in me because I like donuts. To stretch the analogy ridiculously, Twitter is one big conveyor belt of donut after donut, just like in the Krispy Kreme store. The opportunities to react are endless, the stimulus just keeps coming. With that much stimulation, it's easy to forget about View. Eventually the desire just takes over, and I am just blindly following my habits. Dropping the preconceived notion of the donut takes work—otherwise things stay superficial and I kid myself about any real change (which is the purpose of View) taking place. I could end up looking nice while inside burning with craving and greed.
As I watch my Teacher work on Twitter, I see a person who wants us to go beyond the superficial and work at personal change. It has been her life's mission to lead beings in that process. If we are practicing Vajrayana, we need to keep the fundamentals intact in order for there to be a potent result. Vajrayana View directs us to accept our Teachers, our Root Guru, as perfect. I don't think they meant perfect in the "good girl, good boy" sense (though there is nothing wrong with that), but perfect in terms of having the qualities and capacity to guide us to enlightenment. In this regard, it doesn't matter really what the Teacher looks like or says or does. In fact, we are better off if we do not attempt to judge a Teacher based on those superficial qualities—not because Vajrayana asks students to be dumb, but because the real action takes place at a different level and we need every precious moment to devote to deep spiritual change.
Most of the ordained I know who are Westerners and live in the West have to work in addition to their duties as a monk or nun. Most lay people work and have families. Since we don't have a lot of time available to contemplate and practice as it is, why waste a bit of it on activities that, while feeding the ego, don't address the fundamental change that we could undergo with the blessing of our Teachers?
The centerpiece of our practice in the Palyul lineage is the Guru's blessing and our intention with regard to it. If our intention is to cultivate ordinary View (for example, arguing with the Guru, having an arrogant attitude, etc.) then the result of our practice will likely be ordinary. If our intention is to cultivate extraordinary View, the result can be extraordinary. This is the old-fashioned Vajrayana-style path. My Teacher, Jetsunma Ahkon Lhamo (who tweets as @JALpalyul) with deep compassion appears in a form as a human (so that we can recognize and relate to her) to liberate beings from their suffering. That's enough for me. I see her as my pure Teacher. I see her as my true Spiritual Friend. I see her as the source of the blessings of the Buddha. It's all true; she is all this; this is the beginning of View that liberates.
This is the context of my thoughts while I am tweeting. Many people understand the context, but some don't. There is a bevy of folks on Twitter—mostly men, coincidentally—who see themselves as smart and insightful (all true) and who find it difficult to grok that their opinions and so-called insights are impediments to their enlightenment. Consequently, they don't get me and they don't get my Teacher. It's not so important that they don't get me (it would be inconsequential if they did), but it is a missed opportunity to not get what Jetsunma is offering. So far it looks like they have missed it, based on their harassment, name-calling, and questioning of her as they would me, displaying that lacking View which is essential for accomplishment on the Vajrayana path.
If I were a betting man, I'd put down money that she will continue to "tweet" you exactly what is on her mind regardless of what that may look or sound like. Whether from my Teacher or any qualified Buddhist Teacher, the challenge from an old time Vajrayana perspective is to use the moments that have caught our attention to deepen in our practice, rather than increase our poisons.
After all, this is the purpose of a spiritual life in Buddhism, isn't it?
Find Jetsunma Ahkon Lhamo on Twitter @JALpalyul.

Visit KPC's website at tara.org
Gonpo Yeshe (David) Williams is an ordained monk in the Nyingma Palyul tradition. He is a student of Jetsunma Ahkon Lhamo and lives at the Temple that Jetsunma and His Holiness Penor Rinpoche founded in 1985, Kunzang Odsal Palyul Changchub Choling in Poolesville, MD.  He also works with homeless and chronicallly mentally ill adults.