get elephant's newsletter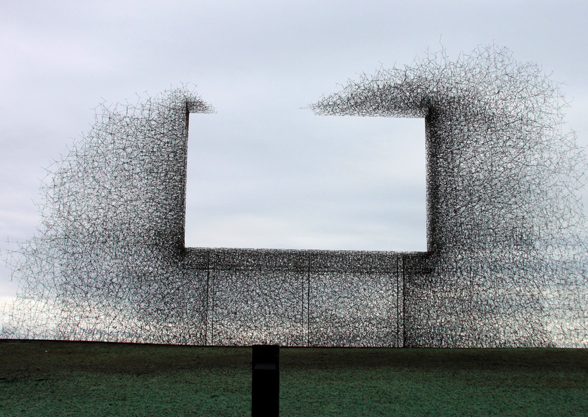 A Sight of Fresh Air.
I'm actually inspired by looking at this "billboard"—advertising nothing but clean air. Seattle-based art/architecture firm Lead Pencil Studio created this amazing, artsy, stainless steel piece of environmental commentary at the U.S.-Canada border. I, myself, would be happy to look at such a billboard while cruising down the highway. Lead Pencil Studio has "built a career on blurring the divide between architecture and art; questioning the idea of consumer culture has been a recurring theme." Via Fast Company's Co.Design:
The government funds an art piece that comments on advertising. Tea Partiers: Is this proof that the U.S. is run by Commies?

So instead of your usual glimpse of cheeseburgers and red-faced car salesmen, you've got a snarl of stainless steel rods vaguely reminiscent of TV static, but surrounding only the clean air of Blaine, Washington.

Clearly it's some kind of pinko Canadian stunt, right? A passive-aggressive commentary on Americans' conspicuous consumption? Wrong! Non-Sign II is the brainchild of the Seattle art and architecture firm Lead Pencil Studio. Even crazier: It was commissioned by the federal government, which usually regards high art the way one would a dead rat.
For the full article, check out Fast Company's Co.Design.