get elephant's newsletter
Fridays at the hospital where I volunteer are seminar days.
Every Friday morning, the entire staff gathers in the clinical director's tiny office, crams onto two long, wooden benches, and listens "intently" as a member of the staff educates everyone on a medical procedure, recent discovery, or an aspect of patient care. Usually, the staff listens patiently for about half an hour, and then the seminar turns into an hilarious shouting match as everyone argues over whether the information presented was, in their eyes, right or wrong. I don't especially enjoy dragging myself out of bed an hour earlier than usual for these seminars, but I go religiously because they are, if nothing else, extremely entertaining.
This past Friday, however, I was pleasantly surprised that the seminar was going to cover the psychosocial aspect of living with HIV. The hospital tests upward of 85 people each morning in its free HIV testing facility, and even though newly-positive clients are counseled before leaving the clinic, there is still a very matter-of-fact, crank-'em-through air to the testing and counseling procedures. The counselors are so limited in time and available medical resources that providing extensive psychosocial counseling to each client is almost always impossible. But Francis Okabera, a counselor at the testing facility and an HIV positive patient himself, specifically requested to talk to the hospital staff about life after a positive test result.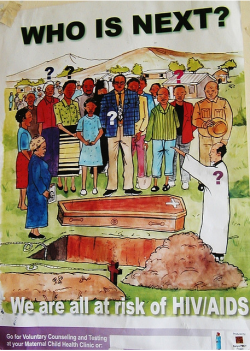 The staff was, for the first time ever during a seminar, completely quiet. Francis spoke about the stigma surrounding HIV and AIDS in Kenya, a topic that was both fascinating and heartbreaking.
"80% of people who are HIV positive do not know that they carry the virus," Francis told us.
"They are too afraid to get tested because HIV in Kenya is not just a virus. It's a moral issue to most people."
What Francis was undoubtedly referring to is the power of the Christian church in Kenya.
Nearly 100% of Kenyans identify as belonging to one religion or another, and the vast majority of them are Christians. Kenyans, however, are not your typical Westernized Christians, many of whom attend church on a CEO basis (Christmas and Easter Only). Almost all Kenyan Christians attend church one to three times per week, and see it as their personal duty to bring Christianity to as many people as possible. (I'm not kidding. I can't even count the number of times I have been asked if I am a Christian. A nurse at the hospital fasted and engaged in a week of prayer so that I might find God, and another nurse asked if I was worried that I would live a life of emptiness and sadness because I am not a Christian.)
The trouble with the overwhelming presence of Christianity in Kenya is the seemingly unique view that many church leaders here have about HIV and AIDS. Francis explained that many Christian leaders preach that a person's positive HIV status is a result of his or her sinfulness and immorality. Though the churches' views are slowly beginning to change, Francis said, largely due to the Kenyan government's "Know Your Status" campaign that encourages men, women and children to be tested for HIV, too many people still live in fear of knowing their status because of the isolation from the church that they would surely face.
Entire communities here are inextricably bound to the Christian church, which almost ensures, in some cases, the ostracizing of HIV positive members of a community. No one here wants to be on bad terms with God, their preacher, or their parish, so those living without the virus shun those who do, and those living with the virus find themselves existing on the outskirts of a very hostile community.
Francis went on to explain that the fear of being cast aside by friends and loved ones discourages a frightening number of people from getting tested. This fear also reduces the chance that those who know that they are HIV positive will correctly adhere to their medication regimen, if at all. Either way, the deliberant ignorance on the part of some people when it comes to HIV and AIDS means that the virus will continue to spread, unchecked, when a little education could greatly curb the number of transmissions.
Certain aspects of Kenyan culture and society also aggravate activists' and counselors' efforts to educate and test the public. Polygamy is not only legal in Kenya—a man may legally take up to four wives—but is quite common. I would estimate that about 50% of the HIV positive clients that I encounter at the hospital are women from polygamous marriages.
There is also an eternally frustrating stigma surrounding the use of condoms, a stigma that is not unique to Kenya.
Historically, typical African families were very large. It was not uncommon for women to give birth to seven children or more, and the bigger the family, the more powerful they were considered by other families in the community. The governments of African countries are now encouraging family planning, and in a shift that suggests that men and women are becoming increasingly conscious of the economic strain that a big family creates, families are getting smaller. But the ability of an African man to father children, even if he does not want many (or any), is still seen as a symbol of his manhood and patriarchal power. A condom is seen by some men as an attack against their power as men.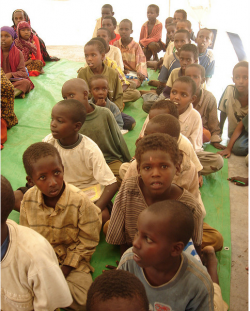 I have spoken with several men at the hospital, for instance, who are afraid to use a condom because they do not want their partners to think that they have HIV. Tragically, Francis pointed out, we cannot curb the spread of HIV and AIDS until we are willing to break down the religious and cultural stigmas surrounding the virus. "HIV is just that: a virus," Francis said. "It is not a sin. We cannot praise God as the creator of human beings, the almighty judge, and then take His judgement upon ourselves and shun those He has created," he added quietly, his comment subtle but powerful evidence of his simultaneous piety and positive status.
The staff remained unusually quiet at the end of the seminar, and after closing the meeting with a prayer, they slowly filed out of the room to continue with their work. We all felt a newfound respect for Francis, a man who openly lives with HIV in a country where so many people consider his condition the result of unforgivable, sinful behavior.
But what Francis impressed upon me the most was that if the spread of HIV and AIDS is to be curbed in Kenya, in Africa, and in the world beyond this continent, it is not just important that every Kenyan man, woman, and child knows his or her status. We should all summon the courage to be tested, and we should remain supportive, rather than fearful, of those we know and love living with the virus.
HIV and AIDS is not just an African problem. Please, get yourselves tested.