get elephant's newsletter
Let's discuss what you should ask your wedding photographer.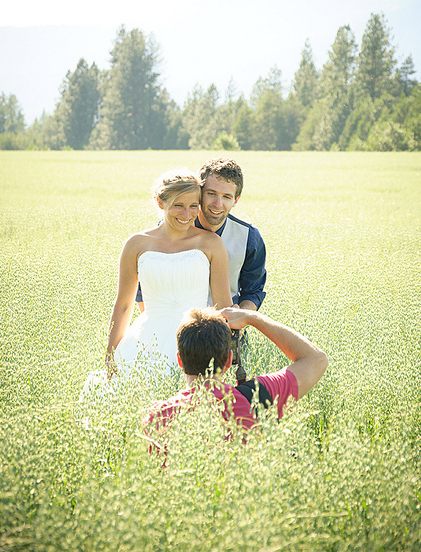 Choosing a wedding photographer for your wedding day can be difficult. You want to get the best wedding photo package for your money that you can. While there are more than a handful competent photographers in your area, there is no doubt that there are only a few that could lay claim on competent wedding coverage. The photographer will literally be with you more than some family members and close friends on your wedding day.
Experience shooting weddings
Just the fact that a person has a camera, and has taken millions of pictures on various vacations should not classify anyone as a wedding photographer. This form of photography is a specialized service and should be handled by someone with experience. Find out how long they've been photographing weddings; if they are experienced and have been in business for a while they should have more than one wedding album as a sample to look at. Insist you meet at their studio or home, this way if you have a problem you have an address to go to. Avoid meeting at a local coffee shop or a diner, they may just disappear with your deposit.
Who will be my photographer?
Will you be meeting with the actual person who will be shooting the wedding, or are you sitting with a sales person? A lot of the larger studios farm their work out to others, be aware of this. It's important to meet with the actual person shooting the wedding and it's important to see their sample work and not general studio samples. Not every photographer working for that studio will have the same style, or the same personality. It's important to feel comfortable with your photographer; you'll be spending roughly 10 hours with this person so make sure you can tolerate him or her. It will be a long day.
Equipment

There are several cameras on the market today, some for professional use and some are consumer cameras. The majority of professionals today have gone over to digital photography. The quality of digital has come a long way, and the results are as good or even better than film. Ask your photographer if they will be using film or shooting in digital. Find out the type of camera they will be using and do some research on the camera, make sure the quality will be acceptable, especially if your photographer supplies all of your images on CD. You want to make sure you get the best quality image for re-printing. Don't forget to ask about back-up equipment: will they have any?
The Product

Like anything we buy today, we all look for quality. Besides the actual photography as a product, the wedding album, the printing, the thank you cards, (etc.) are all products that your photography studio should offer. Examine a finished album; make sure it will stand the test of time. Good references to this are the studio samples. These books are viewed hundreds of times a year. How are they holding up? If they look to be in good shape then chances are it's a good product. Your album will probably never get the viewing audience that a sample album from a reputable photography studio will get.
Packages and hidden charges

Once you establish the fact that the work is good, the products are of good quality, the equipment is acceptable and you are very comfortable with the photographer, it's time for cost. Most studios have pre-designed packages to choose from. These are just guidelines and most studios will customize their prices according to your needs. First, determine what your budget is and then determine what you need in your package (for example: album, parent albums, prints, engagement session etc.). Get it in writing that whatever you agree on will be the final cost and no other fees will be charged. You may go into contract and after everything is said and done you have a bill for $500 for retouching or color conversions. Make sure your contract covers all retouching, color tinting; black and white conversions on all final prints (proofs excluded) should be included in your final price.
Don't forget to ask how many hours of photography you get. A good studio will usually start 2 hours before the ceremony right up until the cake cutting. Overtime can get costly. The only thing you should have a bill for is if you order above your contract.
Erol Ata

—Growing up as a child in northern New Jersey, I've always had a passion for art and drawing. I eventually picked up my first camera at the age of 17 and fell in love with photography. Never formally educated in photography I read books and studied photos in magazines like Vogue, Cosmo and many others fashion magazines. I appreciated the techniques of the fashion photographer. I started working as an assistant to various high end studios in the area then eventually opened up my own studio which I incorporate high fashion photography in all of wedding, my brides love feeling like a model. I eventually moved my studio to historic Chester NJ and not only are we a photography studio, we also represent various local artists. We are also making a special effort in helping our local animal shelters and donating our services and studio space to help raise money to keep the animals healthy and safe.