get elephant's newsletter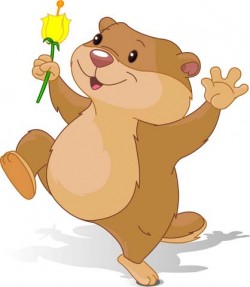 Punxsutawney Phil-a-busters.
Well, here we are a day or so before Ground Hog Day. Now why this isn't a High Holy day in the spiritual yoga community, I will never know. If there is any animal, real or fictitious, that mimics the dance of the yogi, it is a ground-hog, is it not? Now nothing against Ganesh, we love our elephant God and Hanuman, you rock big time; but we need a mascot and the ground-hog is my vote.
Why the ground-hog you may ask. Well isn't it clear? The ground-hog represents a cosmic game of peek-a-boo. Will we see our divine nature or continue to hide from ourselves? The ground-hog reminds us that when we are so cloaked in our concealment, light is right around the corner. Spring will always come and everything will blossom. As yogis we play this perpetual game of concealment and revelation; we see our darkness and can easily forget that the next revelation will be even brighter. Thank you ground-hog.
The movie "Ground Hog Day" is another reason my vote goes to the rodent. Did you ever notice how we get stuck in the same perpetual patterns over and over . We long to change the all too familiar dance with our partners or children or parents. And yes, just like the movie "Ground Hog Day" , the Universe gives us another chance over and over, every day to do it differently until we get it right. The Universe is endlessly forgiving and supportive. We get infinite possibilities to do it differently again and again. But it is up to us to make the more conscious choice. Will you choose to align with the flow or go against it and suffer? The path of least resistance is not usually the answer, it takes courage and commitment to move against our tendencies. And remember the movie, it doesn't happen over night; otherwise there would be no movie, right. It's a process and a journey and it's all good.
Yes, and on another note, the ground-hog has to represent grounding doesn't he? The word ground is part of the his name. Now not for nothing but what yogi do you know that doesn't need just a little more grounding?
So let's hope the ground-hog sees his shadow because where ever there is shadow, light is right around the corner. Remember to cast your vote for the Ground Hog.
Go Ro!

Isvari Verre is an Anusara-Inspired yoga teacher working passionately toward her 500 hour full certification under the guidance of John Friend. She teaches Private Yoga and Therapy Sessions, Public Classes, Workshops and Teacher's Trainings at Kashi Atlanta under her mentor Swami Jaya Devi who she adores. A self proclaimed yoga addict, she uses her OCD to excel in alignment, asana and therapeutics. She believes in living the yoga on and off the mat and not taking herself too seriously. She is a mom of 3 teenagers thus depends on her practice to stay sane. She just launched her new website Isvari Yoga . And when she is not on the mat, she is marketing her silk pillowcase company, Silks By Isvari.