get elephant's newsletter
Ok, so this is an article in the form of a question… or is it a question in the form of an article? Not sure…Anyhoo!
As a Yogi I know the importance of a Sattvic diet.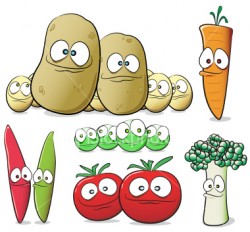 Fresh vegetables, nuts, pulses etc could be included in our diet if we want to be fit, healthy and shining bright with energy. My thoughts on eating meat as himsa are more around the idea of meat being Tamasic for us than anything else, but that's just my feeling.
My problem is though, living on my own, I don't really plan ahead with meals… I realise I'm hungry and I search for something to eat, simple as that. In one way that's a good thing. My Mum is always thinking about dinner straight after breakfast. My bowl is not washed before she asks "What would you like for dinner?" It used to drive me crazy! Now I've managed to just give my Mum an answer to her question… she gives me a choice and I choose!
You see, I don't really care what I eat. All food is good to a certain extent for me and that's the problem… maybe I should care. Not just about what I put into my body… How I put it into my body as well.
I have an enormous amount of respect for kathryn Budig. Her love affair with food is inspiring. Especially her ability to prepare such mouthwatering dishes and keep her body lythe and healthy.
But I'm lost at the moment. I'm finding myself very apathetic when it comes to eating. I do like cooking; The smells, the colors etc. But lately it's just not been working for me. I tend to eat a lot of sandwiches and ok they're homemade and reasonably healthy, but still.
So, have any of you Superdupersexycool peeps out there, got any advice for a single guy that wants to eat healthy and yogic but can't get his act together?
Answers below please!