get elephant's newsletter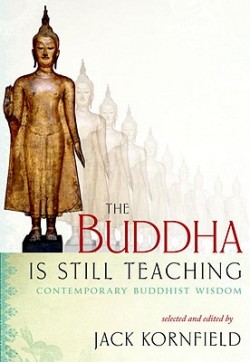 This collection of aphorisms and short essays is presented as a modern day sutra intended to put the teachings of the Buddha in a contemporary light.
The Buddha never intended for his teachings to be confined to one particular time or place, and The Buddha Is Still Teaching is a demonstration of this idea. This compilation isn't intended to be read cover to cover in one or two sittings; instead, the writings are intended to be read, contemplated, and even discussed/debated before moving on to the next one. Nor does the book need to be read "in order" as it were, the book covers a wide range of topics, and the reader is free to pick and choose those writings which make the most sense at the time.
This wonderful collection includes such luminaries as Thich Nhat Hanh, Sylvia Boorstein, Gandhi, the Dalai Lama, Jon Kabat-Zinn, and a host of others. From Shambhala Publications and available from your local, independent bookseller. (Shop local, shop independent, and tell 'em you saw it on Elephant Journal!)