get elephant's newsletter
Remembering dates & respecting the past.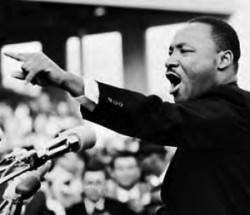 Important dates are all too commonly mixed up among the general public.
Celebrating Christmas on the 4th of July might be inconsiderate to religious types, and mixing of messages can be offensive. Often we lose track of the dates that an important speech was delivered.
I Have a Dream is the landmark speech delivered on Aug. 28 1963.
2010 was the year Beck attempted a hijacking of the landmark civil rights by Dr. MLK Jr. on the exact same date. Was Beck deliberately stealing and piggy-backing on Dr. MLK Jr. to promote Tea Party and conservative thought on the same day? Speeches like these are sealed in time for the gravity of their importance, and should be recognized and reflected by other media persons, as such.
Perhaps this is just a coincidence, and Beck can claim it as a mishap. This overlapping of days did result in Beck falling on his face, when compared to Dr. MLK Jr. and his reverberating message. The civil rights speech maintains a more thought provoking and time-lasting message, when compared to the show put on that day, by the corporate-funded Tea Party.
The clip below shows Rev. Manning going through the thoughtless mistake and lack of respect by Beck for MLK and his important message.
Dustin Stanton is an intern at elephant with a bio coming soon.