get elephant's newsletter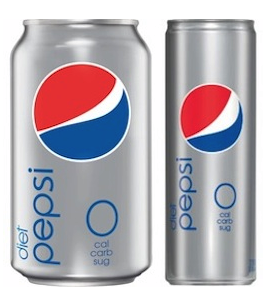 Because it's more "stylish, attractive, sassy, confident, beautiful" to be tall and skinny?
Via CNN (click here to read the full bit):
Diet Pepsi will soon be available in a "taller, sassier new Skinny Can" that the company says is a "celebration of beautiful, confident women."

The new can — which stands just more than six inches in height — will make its debut at New York's Fall 2011 fashion week later this month, but it won't hit stores until March.

"Our slim, attractive new can is the perfect complement to today's most stylish looks," said Jill Beraud, chief marketing officer at Pepsi (PEP, Fortune 500). "We're excited to throw its coming-out party, during the biggest celebration of innovative design in the world."
From the Department of Fire That Ad Agency.