get elephant's newsletter
Photo of day.
President Obama's dinner w Jobs on left, Zuckerberg in right, other tech powers. Can't help but wondering: in this age of Corporate power, who's more powerful?
Personally, I'd say President Obama still has the edge, if only barely, over Zuck. Jobs, I'd say he's way ahead. ~ ed.
President Barack Obama joins a toast with Technology Business Leaders at a dinner in Woodside, California, Feb. 17, 2011.
(Official White House Photo by Pete Souza)
Bonus: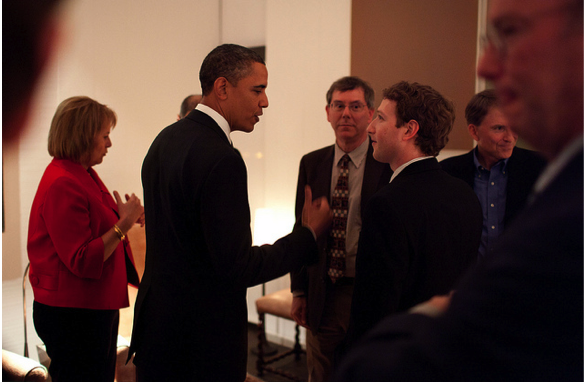 President Barack Obama talks with Facebook founder and CEO Mark Zuckerberg before a dinner with Technology Business Leaders in Woodside, California, Feb. 17, 2011. Also pictured, left to right, are Carol Bartz, Yahoo! President and CEO; Art Levinson, Genentech Chairman and former CEO; Steve Westly, Founder and Managing Partner, The Westly Group; and Eric Schmidt, Executive Chairman and CEO of Google.
(Official White House Photo by Pete Souza)