Hi, Yoga fans.
Welcome to the brand new (drumroll please) Elephant Yoga Magazine online.  Now you can enjoy Elephant Journal's rich Yoga content in a variety of different ways to meet your individual preferences.  Here's a quick tour:
1) Let's start with the new Elephant Yoga homepage.  To get there, simply click  the "yoga" tab at the top of any page.  Here you will find the blogs that are "Featured Today", "Popular Lately", and "Latest", along with a variety of other menu choices.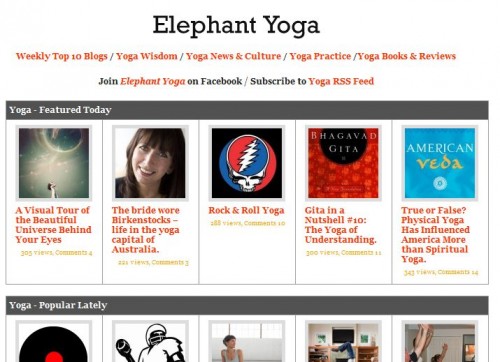 2) The Elephant Yoga Facebook Page is already going strong.  Join now and you will get a daily stream of recommended Yoga blogs.  This same stream is available on Twitter by simply following @bobweisenberg.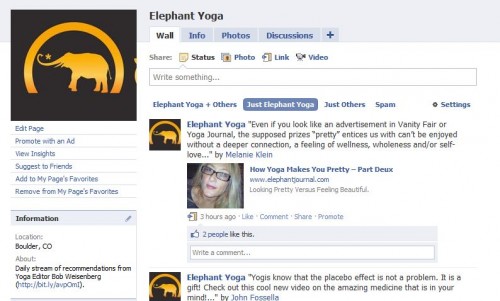 3) Each week we publish the Top 10 Elephant Yoga Blogs of the Week (always a difficult task because we always have so much great material to choose from).  This same page shows past Top 10 blogs going back four weeks.  A great way to enjoy the best of  Elephant Yoga even if you have only a few minutes to spend on it each week, or to catch up if you gotten behind.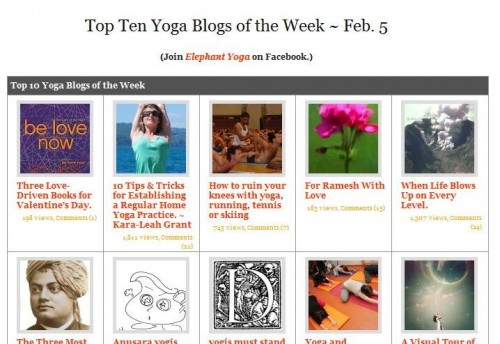 4) Now you can browse Elephant Yoga by category from the menu at the top of the homepage:
Yoga Wisdom / Yoga News & Culture / Yoga Practice / Yoga Books & Reviews
5) Have a favorite writer you want to follow?  Now you can subscribe to any regular contributor's RSS feed by just clicking on the link on their profile page.  (To find a writer's page, just click on their name, or use the search box.)
6) You can follow the entire Elephant Yoga RSS stream.
Check out all these features and tell us what you think.  Everything we did above was based on your generous feedback when I first took on this job a couple of months ago.
Many thanks to Colin Wiseman (iheartmyyogi.com), our IT guru in Scotland, for his expert work on this project.
If you like this, please click on the "like" button to tell all your Facebook friends about it.   Please tweet them and e-mail them.
Now we're Elephant Yoga Magazine, already one of the most abundant and diverse Yoga magazines on the planet, and growing fast, thanks to your support.
You asked for it, you got it.
Now tell us what you want next.
Bob Weisenberg
Yoga Editor