get elephant's newsletter
Feathers on the Breath of God
Written by Jeannine Goode-Allen, DMin.
Directed by David Sharp
Set design by Thomas Crowley
Presenting Feathers on the Breath of God at the Nomad Theater.
Feathers on the Breath of God is a musical with an original score composed by Jeannine Goode-Allen,
David Sharp, Gary Grundei and Hildegard von Bingen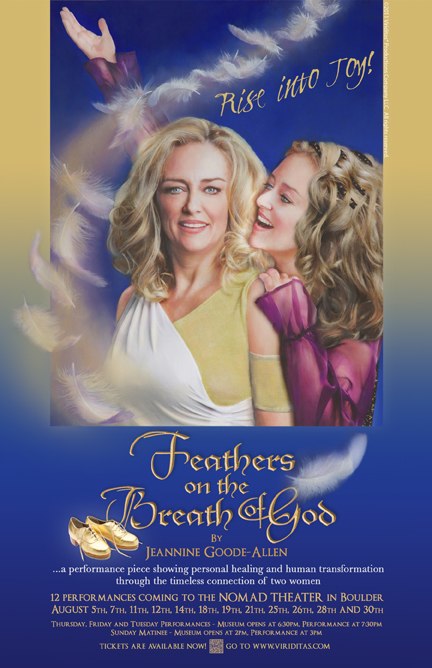 Feathers on the Breath of God is a compelling story of transformation, shared through the artistic interpretation of an inspiring woman in a uniquely spiritual, interactive and beautiful performance. The piece touches all the senses. It unites modern day technology, the power of the arts as well as unique historical ties. Feathers on the Breath Of God is sure to leave audiences wanting more and inspired to express their true selves. Dr. Goode-Allen has been connected to the Elephant her entire life, and the Elephant is a central part of Feathers on the Breath of God.
Excerpt from the Feathers on the Breath of God soundtrack: Elephant Song
and to preview Feathers of the Breath of God's soundtrack, www.viriditasllc.com
Performances are in Boulder at The NOMAD Theater
1410 Quince Ave
Boulder, Colorado 80306
Performance schedule for August 2011 – Thursday & Friday evening/Sunday matinee
Thursday and Friday evenings- from 6:30pm- to 10p
8/5, 8/11, 8/12, 8/18, 8/19, 8/25, 8/26
Sunday matinees– from 2pm- to 5:30pm
8/7, 8/14, 8/21, 8/28
FINAL PERFORMANCE: Tuesday 8/30 – 6:30pm-10pm: BENEFITS PACHYDERM POWER!
Pachyderm Power is a Boulder, CO based 501(c)3 organization founded by Kristal Parks and is dedicated to the protection of elephants from abuse and poaching.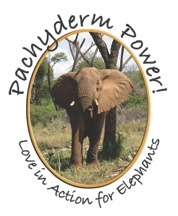 Inspiration for the performance
In creating Feathers on the Breath of God, Dr. Goode-Allen highlights 3 spirit guides:
The Elephant: Remover of Obstacles
The Eagle: Bringer of Vision
and The Snake: Provider of Acceptance
Quotes from Hildegard of Bingen
"What I write is what I see and hear in the visions.
I compose no other words than those I hear,
and I set them forth in unpolished Latin exactly as I hear them in the visions,
for I am not taught in visions to write as philosophers do.
And the words in the visions are not like words uttered by the mouth of man,
but like words uttered by a shimmering flame,
or a cloud floating in a clear sky."
Excerpt from Feathers on the Breath of God
"I am Hildegard von Bingen.
I was born in the year 1098 in Bermersheim, Germany.
I was only three years old when my visions started.
They were always so bright, and my soul always trembled.
My parents and nine older brothers and sisters never saw them.
They were so worried…how could I ever have a normal like they wondered.
In their eyes, I was weak, peculiar and they knew I needed more than they could give me.
So, when I was eight, I was given as a companion to Jutta of Sponheim, the head anchoress at the nearby Benedictine Cloister."
"When I was 43, I received a vision of blinding light,
and I finally accepted my divine call to tell and write what I saw and heard in my visions.
Yes, tell and WRITE what I saw and heard.
I remember saying to Volmar, my secretary and life long friend:
'How is it that I, a lowly woman, am being called to write such things?'
I knew of no women writing about God in those days."
Not recommended for children under 16 years of age. Click here for tickets and to preview Feathers of the Breath of God's soundtrack, www.viriditasllc.com

elephantjournal.com review: inspirational, entertaining and thought provoking musical
What if your muse lived centuries before you? In the case of Jeannine Goode-Allen, DMin, her inspiration is twelfth century poet, musician, nun and philosopher Hildegard of Bingen.  Bingen is a mid-century mystical writer who advised kings and emperors and is Jeannine Goode-Allen's inspiration in Feathers on the Breath of God.
Jeannine Goode-Allen's performance at the Nomad Theatre offers up a one person phenomenological tour of an artist in her entirety. Her work encompasses poetry, dance, writing, theatre and music, replete with elements to engage and enliven all of your senses. Feathers on the Breath of God is one woman musical.
The arts are an integral part of our lives and have amazing transformative and healing powers. Feathers on the Breath oFeathers on the Breath of God is one person musical.f God expresses Jeannine Goode-Allen's sensory exploration of her life as artist.
Not recommended for children under 16 years of age. Click here for tickets and to preview Feathers of the Breath of God's soundtrack, www.viriditasllc.com