get elephant's newsletter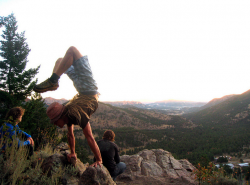 Yoga Journal is heading to Estes Park for the 16th time from September 18-25, to produce the Yoga Journal Conference: Colorado! We're looking forward to waking up to Rocky Mountain views, and maybe even having an elk walk us to class. And, of course, stretching our limbs to the limit and opening our hearts and minds to the max.
Register by August 17th for your chance to practice with over 35 master teachers in more than 100 classes at discounted prices.
Use discount code EP26 to save an additional $50 off the main conference!
Baptiste will be leading a Three-Day Power Flow Immersion, alongside eleven Senior Baptiste instructors. The Immersion features a daily Master Class and a diverse selection of twenty-four other courses.
http://www.youtube.com/watch?v=bc7-sxuYSBE
Seane will be teaching five classes at the conference and will be a featured panelist for the "Yoga of Relationship" discussion.
This eclectic group puts a unique spin on yoga in their Yoga and Rock-Climbing Intensive and Slackline Series.
Our conferences aim to invigorate body, mind and spirit – not only through class instruction, but also through our special events, which we program to resonate with your physical practice. For example:
Baptiste Yoga Rejuvenation Practice: Monday, September 19th
Explore the softer side of the Baptiste Yoga practice in this all-levels asana class with deep and healing restorative poses.
LUNAFEST Film Festival: Friday, September 23rd
LUNAFEST, presented by LUNA, is a traveling film festival of notable and award-winning short films by, for, and about women. Wine & Cheese reception precedes the screening at 6:30pm to bring a warm ending to a rejuvenating day of yoga.
Panel Discussion: Yoga of Relationship: Saturday, September 24th
In this panel discussion, Seane Corn, Gary Kraftsow, and David Swenson discuss how yoga can bring clarity and greater ease to all your relationships, whether it's with your partner, your colleagues, or your children.
Kirtan Concert with Snatam Kaur and GuruGanesha Singh:  Saturday, September 24th
With Snatam on vocals and harmonium, and GuruGanesha Singh on guitar, the concert will be done in the call-and-response kirtan tradition, which builds an energetic momentum that palpably fills each concert space.
Register now and learn more about the conference here.