get elephant's newsletter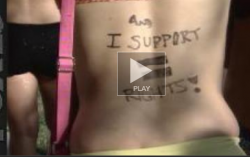 Running against Repression?
elephant's guide of political/social change event: so fun, silly and sexy that it draws in folks who don't give a care…but might learn to do so (if only a very little bit, as little as their undies).
Organizers of the first annual Utah Undie Run say at least 3,000 people took to the streets of Salt Lake City in the skivvies Saturday, some running for for fun, while others were packing a political message.