get elephant's newsletter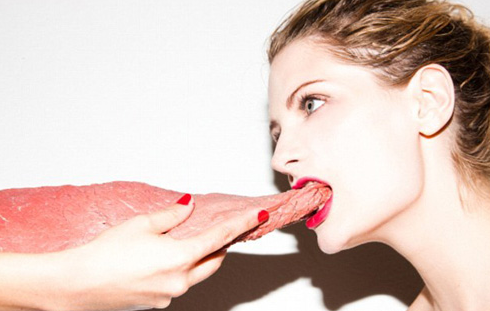 Seems like a good way to waste money, kill animals, and demean women…all in one easy step!
Am I missing something here? Via E! Online:
Mischa Barton apparently likes to play with her food. In a new series of photos by sometimes controversial photographer Tyler Shields, the O.C. starlet is shown biting into slabs of—get this!—raw meat.

Yeah, we also wanted to barf. Anyhoo, what's the deal with Barton's carnivorous cravings?

Tyler Shields tells us he came up with the idea for the pics after having lunch with Barton at the West Coast burger chain, In-N-Out.

"I'm watching her eat this hamburger, and all I could think about was just meat all over her face," he said.

Cut to a couple of days later when Barton arrives for the shoot. "I was like, 'By the way, I bought $65 of meat and I want you to eat it raw and put it on your face,'" Shields said. "And she was like, 'OK!'"
This seems especially odd considering Mischa has been battling her weight over the past few years. She claims to be healthy and her slender figure is thanks to yoga, but this In-N-Out lovin' piece of meat has some explaining to do.
Is this better or worse than Lady Gaga's Meat Dress?