get elephant's newsletter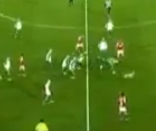 Answer: you don't.
Dog runs into the middle of the game. and the crowd goes wild.
http://www.youtube.com/watch?v=uSu2dbxdlGg
And the crowd's loving it!
Cachorro invade campo e dribla os jogadores de Independiente Santa Fé e Botafogo – 25/10/2011

Cachorro invade o campo e atrasa a partida da copa-sulamericana, e a torcida vibra com olé a cada lance que o cachorro fugia dos guardas.