get elephant's newsletter
Originally published by our elephriends over at Recovering Yogi on December 23, 2011. 
**********************************************************************************
Truth is like a woman.
By Judith Ellen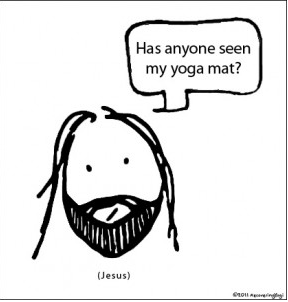 Back in college I was a part of a campus ministry group that held weekly Bible studies.  There was the usual cast of characters who attended:  caffeinated bible thumpers, quietly desperate freshmen, and horny juniors fawning over those freshmen.  One evening a new participant showed up ready to drop spiritual knowledge like it was hot. It didn't matter that she had never cracked open a Bible in her life.  When she raised her hand to comment, she simply said, "Truth is like a woman." We were used to hearing self-serving and impassioned non-sequiturs, but this simile was bizarre. Whatever mumbo-jumbo language she spoke in her head had no earthly translation. She attended a few more discussions, looking to dispense wisdom that our feeble minds could only wish to comprehend.  I believe she sought validation from others; however, she alienated people in the process.
I left that campus ministry, church association, and altogether, the practice of Christianity. I assumed revival only happened in church. Twenty years later, I've discovered that one can be born again in a yoga class and that Truth Woman has reincarnated as one of my yoga teachers.
The class I attend has a devoted mini-following seeking enlightenment and alignment. On one occasion the owner of the studio was subbing for the regular instructor. I'd always been reserved in my perception of the owner, but this particular class confirmed my misgivings and why speaking in parables should be left to Jesus.
She opened the class with:  "Today our theme is beauty is truth and truth is beauty. We all understand this."
Perhaps — if we've taken college courses in philosophy, or we've spent that time smoking weed in the dorm. Nevertheless, she said that she sensed that we "got it." Not like the previous class of mostly beginner students who lacked the spiritual maturity and joy to comprehend this illuminating truth.
The offensive remarks just kept coming.
She excused herself for being sick and did not want to get too close to anyone, but decided that she was going to "lay her hands" on a student anyway to demonstrate prepping for handstand. The student was a willing young Indian woman. The teacher added that it was okay for her to touch this student because she was from "a third world country and has already developed an immunity to diseases."
I'll pause right here so you can digest that statement.
She had us partner up to practice handstand. My partner was clearly nervous. Her body literally shook as she reached her arms out in fear to spot me. I tried coaching her through the process, since being a yoga teacher, I too can understand the fear of being upside down. The instructor left her partner, who was also new to the pose, to come and assist us with the impending damage.
"There's only one instructor here," she murmured as she told my partner to step aside.
Translation: This studio ain't big enough for two teachers. Someone's gotta mosey on outta here.
In her proud, instructional voice, she was showing me off and up in a perfectly pitched pose. Never mind the seven years of my practice, which has often been laced with injuries and embarrassment. One time, I fell over and kicked a Ganesha statue off of his altar.  Ganesha is the destroyer of obstacles. So, yeah, I did that, too.
Safely back on my mat, I wondered if I should just walk out. There was still time to make a mad dash for the door well before savasana.  Lost in my thoughts, I suddenly felt her hands grab my inner thighs. She was attempting to swivel them outward (or was it inward?).  Whatever the direction was, my thighs were clearly not doing what she wanted them to do. This awkward moment became a showdown.  There she was hovered over me in the noontime shadow, reaching for her holster. I stared her down ready to draw. I shook my head at her to signal her to back off.  You may be the teacher, I thought, but these legs have given birth to two children, bitch.
A lesser yogi would probably have probably written this woman off and cursed her ancestors, studio, and any future profits. Me?  I worried about her, and here is why — the real truth is that she wore her insecurity like glimmering pearls around her neck, choking her to death. Two hundred hours of training, stringing together fancy sounding words, and being able to do a drop back does not make even a decent yoga instructor. Jesus said it best when he spoke of the Pharisees, uptight and snobby holy men who accumulated knowledge, yet lacked the wisdom to use it:
For everyone who exalts himself will be humbled… (Luke 18:14)
If this teacher continues her thoughtless behavior, students will catch on, and her numbers will dwindle.
And in this case, truth will be more like a yoga mat.
About Judith Ellen
Judith Ellen is co-founder of Transcend Consulting, a firm providing mindfulness based approaches to education, health and wellness, and cultural competence training services.  She brings over 15 years of experience as an educator, yoga instructor, and personal trainer to her work with adolescents,  women, and historically under-served, urban populations.  She could babble further about all the funky stuff she does, but you decide if she's worth the time by checking out her street cred: http://transcendconsulting.org and http://feistywords.blogspot.com.