get elephant's newsletter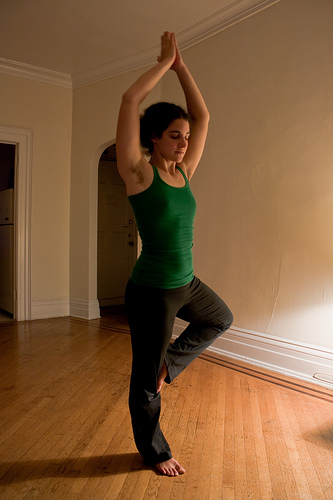 You clicked on this. Why? Because who doesn't want to believe that a simple guide can lead to eternal bliss?
We yogis are all about fixing things. Give us a new agey cure and we're like kids on Christmas —  each clambering to get our fill of the latest ayurvedic massage which will surely leave us lighter and wiser than we were before.
However, sometimes this "fix it" mentality, though grounded in an authentic desire for betterment, becomes addictive, and we find ourselves dependent on things like acupuncture and bottled-kombucha in order to feel fulfilled.
Even yoga, a practice founded on introspection and an admirable craving for clarity, has come to connote just another form of expensive exercise, complete with Lululemon workout pants and thick Manduka mats. Why do we feel that even after years of compliant practice, our yoga can only take place inside the 'shala'– or limited to the hour and a half we spend inside our local studios?
I am not negating the power of an inspirational teacher. A true teacher, like a good song or story, can be the gateway we need to peer into the far-off reaches of real enlightenment, the peace we all hope that yoga will bring us. But yoga is above all a personal practice, and it, like the healthy lifestyle we followers try to cultivate, should not be dependent on outside forces in order to thrive.
So try it, even for just a week. Give up the notion that your newly developed gluten allergy, your weekly vinyasa flow, is the key to your personal happiness. For just seven days, wake up and attempt to find that practice within yourself, doing yoga or a meditative practice at the foot of your bed or on your kitchen floor. You may be surprised at the freedom the new practice brings, the authenticity found in knowing that the answers you've been searching for are actually inside you, not nestled in the pages of the latest self-help book, or rolled in the folds of another new mat.