love heart!
0 Comments
Read The Best Articles of March
You voted with your hearts, comments, views, and shares.
CLICK TO SEE WHO WON
Get our daily inspiration (free)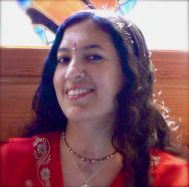 Catherine Ghosh is an artist, writer, mother of two sons and editor of Journey of the Heart: An Anthology of Spiritual Poetry by Women (Balboa Press, 2014). As a practitioner of bhakti yoga since 1986, she is co-founder of The Secret Yoga Institute with author and teacher Graham M. Schweig, Ph.D., her life partner. Catherine has been a contributing editor for Integral Yoga Magazine, and is a regular columnist for Mantra, Yoga + Health Magazine. Together with Braja Sorensen, she created the Yoga In The Gita series. Catherine is passionate about inspiring women to share their spiritual insights and honor their valuable voices on her Women's Spiritual Poetry site Journey of The Heart .. You may connect with her on FaceBook, or email her at [email protected] A lover of nature, she divides her time between her two homes in Northern Florida and Southern Virginia.