get elephant's newsletter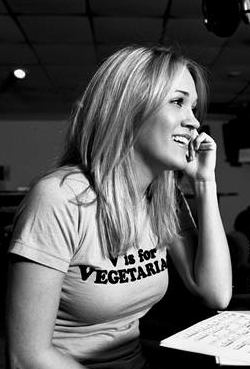 I know, I know. I'm not a celeb gossiper either.
But when this popped up on the internet, it made me take a second to think about it, which is important. I think it's great that someone as well-known and loved as Carrie Underwood, who graces the cover of this month's SELF Magazine, can take a stand for animal rights, and hopefully people, who maybe didn't give a care before, are now listening.
"I love eating and talking about food. I've been a vegetarian for seven years…Now I'm 95 percent vegan…My veganism is based on a concern about where my food is coming from. In my perfect world, I'd have webcams wherever food is processed so I'd know how clean it is. I'll never eat meat again, because I look and feel better without it, but if I could raise my own cows and chickens and produce my own eggs and cheese, it would be awesome! The food would taste better, because the animals would be happy." ~ Carrie Underwood
So let's gossip if it'll get "the good word out beyond the choir and to the masses."