get elephant's newsletter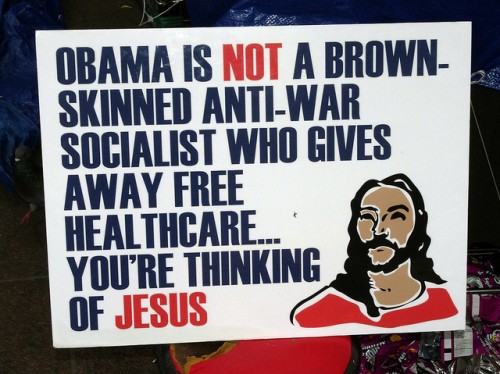 If Jesus were alive today, he'd be a Democrat.
I don't mean to be biased and frankly, I'm not even religious. I'd have a hard time saying Jesus is my homeboy, and if we're being completely honest here I'd have to admit he's more like the angsty preteen son of my boss's ex wife who added me on Facebook and now thinks we're friends.
And yet, in reading up on the Holy One's unabashed teachings of service and acceptance, I can't help but think that were he living in today's society, he'd follow in the statistical footsteps of today's young adults and females, and vote for social welfare programs and say, some cuts on student loans?
I also think he'd probably oppose the blatant involvement of interest groups in electoral campaigns, and most likely would have protested outside the Supreme Court for allowing officers of the peace to strip search anyone, for any crime, anytime (God bless America), but that's just me.
To go one step further, I have to say I think he would have loved Occupy. In fact, I think he would have started it. He would have been right at home there, sitting cross-legged on the grass in Zuccotti park, with angry and passionate protesters all around him, listening in awe as he eloquently waxed on about the merits of peaceful protest, political efficacy and true change.
Most likely, the right-wing groups that vehemently denounce our (admittedly flawed) President would have disliked Jesus.
"Can't he just get a job?" they would ask "instead of sitting out on the grass and talking shit on other peoples?"

"This is my job," Jesus would say, and they'd roll their eyes, happy only in knowing at least their children would never turn out like this "Jesus" character.
Jesus would have struggled with the dilemma over whether to start his own political party (as a matter of principle) or vote on the Democratic candidate he thought might actually win. Knowing that without his own Super PAC his party could never be taken seriously, and would probably end up hurting the Democrats by taking away some much-needed votes, he'd sadly decline. In the end, he'd vote Obama.
And come November, as I fill out my voting ballot for the first time ever, you know I'll be asking myself the much needed question: What would Jesus do?
~
Editor: Brianna Bemel