get elephant's newsletter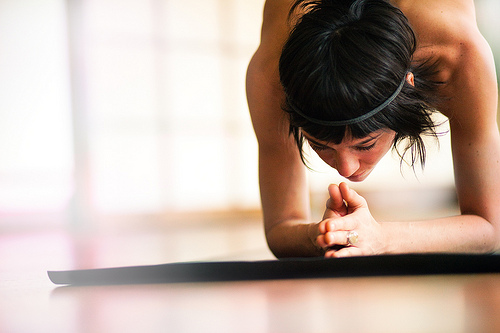 If you earnestly and consistently show up to yoga, you lose the ability to lie.
Today's article is the answers questionnaire that I had to fill out for my bio at the yoga studio I work at.
I'm having a good time with questionnaires these days. Justification to talk about yourself. Wonderful. I had a blast.
Since you are a privileged and exclusive reader, you get to enjoy this juicy, uncensored and more personal version.
1. Name (First and last): Exuberant J. Bodhisattva
2. Where are you from? If you're not from Halifax, how/why did you move here?
I grew up in a small town called Perth Ontario, where I won the goldfish lookalike contest at the Perth Fair Pet Show. I went to university in Montreal where I lived for eight years. Last June I went to a good friend's wedding. She got married on a boat, and on the boat there was a man named Robbie. Now I call Robbie the Boatman and I live with him and his Big Black Dog. I have been in Halifax since the end of July.
3. If you went to college/university etc., where did you go? What did you study?
I went to McGill for a couple of years where I studied Literature and Religion. I wanted to become a writer and find God and/or Jesus. After two years, when this wasn't happening, I took two years off to live and work at L'Arche, a community for people with intellectual disabilities. Feeling like my life would not be complete if I didn't finish university, I returned to Concordia (Montreal) where I majored in translation (French-English), and Creative Writing.
4. When did you start practising yoga? Why and how did you start practising yoga? Did you start with Ashtanga, or another style?
I had a very active childhood. From a young age I swam competitively. Although I quit after grade nine, I maintained a very extensive exercise routine, including running and swimming and doing whatever weird things people did at the gym back then. I wasn't beyond aerobics, not even step aerobics.
The first time I ever did yoga was in an adolescent psychiatric ward. I was fifteen and my body had maxed out on laxatives, neurotic exercise and various other eating dysfunctions. I wasn't allowed to do anything very physical.
During the classes, we mostly just sat around and breathed. And there were very long savasanas. Judging from the teacher, inner peace seemed like an optimal idea, but the process was slightly boring and probably didn't burn very calories.
After I got out of the hospital, my mother gave me Ali McGraw's video, "Yoga Mind and Body", hoping desperately that I would relax and choose a less abusive physical activity. In the movie, Ali wore a white bathing suit over white tights, and practiced on a desert of white sand, under a deep blue sky.
Some man with a soothing voice talked her, and me, through short sequences of relatively basic postures. At the end when we lay in savasana, the man advised me and Ali to let go of everything we didn't need and then all there would be was love.
Keeping his advice in mind, I did the video a few times a year, but remained compelled to hold tightly to my vigorous and neurotic exercise routine.
A year or so later, my mother tried another video on me: "Yoga for Strength," by Rodney Yee. I was a little more intrigued this time. Rodney had an impressively chiseled body, and he could go upside down.
Although terrifying, going upside down seemed much more exciting, and tangible than inner peace.
At the time, I was hardly practicing once a month, and I couldn't go upside down to save my life. But Rodney had sparked my interest and this initial fascination stayed with me.
When I was seventeen, I had to move to Ottawa for a couple of months to do a day treatment program for adolescents with eating disorders. It had become pretty clear that I could no longer sustain the harsh physical routine that I had been imposing on myself.
After my weight and food intake had been stabilized, my mother treated me to Ashtanga Yoga classes. She'd called the instructor ahead of time, adamant that I wanted to sweat and work hard and not get bored. The instructor assured her that there would be lots of sweat and no boredom. He was right. The class was perfect. I could never have imagined anything like it.
When I went to school at McGill, I continued to practice a bit on my own or at Led classes. Sometimes I practiced once a month, sometimes five days a week. It took me four more years to integrate a daily practice into my schedule.
Almost five years ago, I left the house for people with disabilities and I suddenly had all this spare time during which I didn't have to change diapers or prepare enormous meals or wash floors. So I showed up at Mark Darby's morning Mysore class, Sattva Yoga Shala, which happened to be down the street from where I was going to school.
As it turned out, all the cool people at Darby's practiced six days a week. I gave it a try and that was that.
5. What draws you to Ashtanga?
I love this practice. I love the structure and routine it provides. I love the sweat, the challenge, the focus, the intelligence of the sequence, the repetition, the physical and emotional release. Practice is always changing, but no matter what, you never regret it. It's like taking a shower.
Maybe I am too attached to my practice. Probably. But that's part of the practice too: this paradox of taking delight in something that can never be quite the same, or exactly as you want it to be. Often the days when it all seems to fall to pieces hold the most valuable lessons.
I surrender to this practice, not with blind faith, but because I believe it holds enormous potential for transformation and that true and lasting transformation takes much longer than 90 days, or a year, or even a decade. To truly evaluate this method's effectiveness, I feel the need to stick with it for a very long time.
To see it through the days when everything seems boring, arduous, repetitive and miserable to the days when I get up from savasana and I can't wait to practice again.
I am also deeply inspired when I look at senior teachers-the Darby's, Kino and Tim, David Robson, and many others-and see the vitality, serenity and joy granted by years of devoted practiced.
6. Why did you decide to teach? What draws you to teaching?
In 2008, I wanted to do the year-long teacher training with Darby's so that I'd have the opportunity to spend a whole year immersed and obsessed with yoga. Turns out the immersion and obsession lasted a lot longer than a year.
Teaching provides me with the opportunity to remain immersed and obsessed, and I'm grateful for this. Plus I happen to really love people. Practicing alone can be a bit solitary, lonely, and dare I say it-self-absorbed.
 So it's wonderful, and perhaps essential, to get out there and share what you love with others.
7. With whom did you train? Where? Any mentors you'd like to mention?
I did my teacher training in Montreal with Mark and Shankara Darby. I am truly grateful for the Darby's and the rich community of practitioners at Sattva Yoga Shala who I still keep in touch with and miss dearly.
Now that I'm in Halifax, I am practicing a lot on my own, but am also privileged to have access to the support and vast resources of knowledge from the teachers here. My next big educational experience will be in July, when I will go to Miami Beach to do a two-week intensive with Kino MacGregor, my longtime hero, and her husband Tim Feldman.
8. Do you have a 'day job' (beyond teaching yoga)? Does it connect with yoga in any way?
Since moving to Halifax, I have been somewhat underemployed. Teaching yoga has been the easiest gig to land. Otherwise, I have a very part-time at St. Mary's Writing Centre. I write and pretend I'm getting paid for it. I try to apply the same devotion and tapas (discipline) to my writing as I do to my yoga. Unfortunately, God didn't make a vinyasa count for pulling off a bestselling novel.
Still, the practice of putting in the work, and then surrendering the results takes some of the pressure out of the writing process. I've also always needed a vigorous physical outlet before being able to fully concentrate on a cerebral task. Ashtanga provides that.
9. What do you do in your spare time?
Besides writing, I read yoga blogs and watch yoga videos on youtube. I hang with out with the Boatman. We go for walks and watch T.V. shows, usually ones that make us laugh. I go to the library. Recently, I self-published an e-book called "I Let Go." Sometimes I try and get people to buy it. Other times I give it away for free.
10. What impact does yoga have on your life/day-to-day/well-being etc.?
You can lie about some things for a little while, but eventually whatever is not right in your life will become very clear.
Whatever shit you're putting yourself through, whatever you're doing to other people, whatever you're avoiding, that will come up in your practice. You'll see it and though you might try, in time you won't be able to ignore it anymore. And you'll have to change it.
Though the Ashtanga catch-phrase, "Practice and all is coming", can come off as overly simplistic, it's actually pretty powerful and accurate.
Over the last week, I've been pretty emotional in practice. My left hip and around my S.I. joint was bothering me a bit, but mostly all I could think of was "I miss my mom." We have a good relationship, but like most mothers and daughters, we've had our share of fights. In the past I've definitely avoided her, resented her for various trivialities and withheld affection.
Yesterday, I just felt like there was so much I had to say to her. So after practiced I called her and cried and said I loved her and I missed her. Today my hip doesn't hurt. It sounds like a really cheesy story, but it's exactly what had to happen.
11. How do you feel about teaching at The Shala?
It is an honor and a privilege to teach every student who comes through the Shala. Teaching you has inspired me to learn as much as I can and to cultivate more integrity in my practice and in my life.
12. Anything else you would like to add:
I wrote a very helpful self-help book: I Let Go, that you can check out on Amazon.
Eight years ago, Erica Schmidt moved from Perth, Ontario to Montréal, Quebec in search of Jesus, her bandhas and her tailbone. Parts of her quest worked out, while other parts didn't. Last summer, Erica relocated from Halifax, Nova Scoti, where she lives with boatman, a man she met on a boat. For more details and amusement, check out Erica's blog at: exuberantbodhisattva.blogspot.com, follow her on Twitter or check out her e-book on Amazon!

~
Editor: Carolyn Gilligan