get elephant's newsletter
June 16th is the 52nd anniversary of the release of Alfred Hitchcock's Psycho.
A masterpiece. Ground breaking, shocking and, some say, the greatest suspense film ever made. The tagline alone is genius:
"The picture you MUST see from the beginning…Or not at all! For no one will be seated after the start of Alfred Hitchcock's greatest shocker, Psycho."
Psycho (1960) was just a little controversial, and not just for the famous "shower scene." She may look plain and unadventurous, especially with her top buttoned all the way up like that, but Marion was sexy, reckless and straight up ballsy.
Meet the beautiful Marion Crane. She shared a bed with her lover, pranced around in lingerie, embezzled $40,000 and hopped on the road in her newly acquired '57 Ford toward sunny California. Until this, we had never seen a leading lady act so roguish.
Impulsive actions. We've all been there.
She certainly lived in the moment. I know the feeling. I walked out on a job once, and it felt awesome. Not that I'm saying we should all start misbehaving, but sometimes, you gotta go with your gut.
Ever fire off an inappropriate late-night email to your stupid boyfriend? Maybe you've run a red light at three a.m. because no one was around? Of course you have. I hitchhiked home to L.A. from Tijuana once. We've all done silly stuff on the fly—you should see some of my tattoos.
I'm not talking about breaking the law. I've never stolen anything (and I'm not sure I would say here if I had), but I believe in the universal law of fairness—karma. Lady Crane swiped that dough and ended up getting slashed to ribbons by a maniacal cross-dresser with mother issues. Not exactly the best way to go. There's a moral there, friends.
Speaking of mothers…
Spoiler alert: Mama's dead.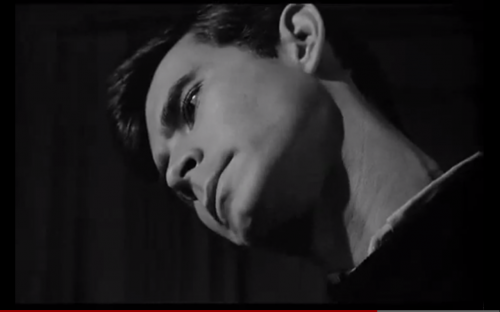 Norman Bates, being slightly out of his mind, dresses up as the dearly departed, busts in on Marion while she's in the shower and repeatedly stabs her in the most famous death scene in film history.
A little mad sometimes?
We all need to get our ya-yas out, but the point is not to go too far. Stressed? Cry it out, get some exercise or at least go outside for some air, for God's sake. Talk to your pals. Don't isolate. And taxidermy is a creepy hobby.
Psycho is the big daddy of the horror/suspense genre and has influenced countless films and filmmakers since 1960. Want a good scare? Just play the soundtrack. The movie nabbed four Academy Award nominations, spawned two sequels, a prequel and an extremely pointless remake, and put the fear of God into anyone who ever enjoyed taking a nice, relaxing shower. It took seven long days to film 45 seconds of terror.
And Janet Leigh, the original Scream Queen, never took a shower again.
video:  Uploaded by MiKaylea



~

Editor: Kate Bartolotta