get elephant's newsletter

Strange how I have been unintentionally coming across a lot of discussions on love, commitment and marriage recently.
I am not a fan of marriage, and I know little about it, so I searched up its definition on several dictionaries and other textbooks. I have come to understand that marriage is basically proclaiming the couples' love and vows of commitment before the church and the state. It involves legal documents to support the very act of making a "vow of commitment."
Sounds like business to me. This is probably one of the reasons why I was never really a fan of marriage.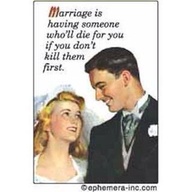 I believe that the love and commitment of a couple doesn't make it any less if it was not written on paper and signed by people who are not really involved in the relationship. If two people wish to be together regardless of whether they signed a document or not, then nothing else could separate them but themselves.
A vow can only go a certain distance; the efforts on both individuals are what will make the relationship work.
I know a lot of couples that have been married but opted to go through another long and tedious process just to void the contract they've made. Did they realized that they've made a mistake and found out about it only after they went through all the hassle of fixing all legal documents, and spending money on a celebration which they would want to "un-celebrate" eventually?
A lot of people I've shared this opinion with thought of me as someone who's had a bad experience that made me become a pessimist on love. I've had experiences of getting my heart broken by few men whom I thought mattered, but I don't think it was that grave for me to be a non-believer of love.
Actually, I love love. I crave for love. I love being loved and loving someone wholeheartedly.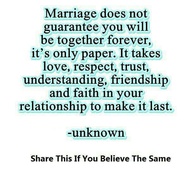 I adore the idea of love and I'm a sucker for it. But not marriage. Love and marriage are two different things for me. You can be married with a person you did not love. You can love or be in love with a person to whom you are not, and cannot, be married to.
Maybe I just don't understand the idea. Maybe I just haven't met the person who would make me believe in marriage. Or maybe I've given up on believing in what society thinks ideal. I don't know what it is, but for whatever reason it might be, this is how I am, and this is how I will be.
For the person whom I would spend the rest of my life with, please don't force me to give in on what is ideal. Not having your surname as part of my name would not make me love you any less. I hope you could give me that respect and not try to change my principles and beliefs.
After all, love is mostly respect. And although I do not believe in marriage, I still greatly believe in love.
 "If I had a world of my own, everything would be nonsense. Nothing would be what it is, because everything would be what it isn't. And contrary wise, what is, it wouldn't be. And what it wouldn't be, it would. You see?" ~ "The Mad Hatter" Gia Q, in her dreams, would've been Alice treading through wonderland, meeting strange characters in strange circumstances. Treading through what would seem "nonsense" but nevertheless filled with much more meaning to it. In her dreams, she would've peeked through that rabbit hole and let curiousity take her. But Gia's dreams aren't as far as to how she lives reality. Curiouser and curiouser, she arrives in her next adventure. Her real adventures captured in picture frames and endless rolls of expired films, documented in her online diaries, doodled notebooks and heard in her endless stories. An account manager by profession, an aspiring yoga teacher, a frustrated artist and a fiery hula hooper, Gia is not merely a dreamer tossed and turned in uncertainty, she is a maker as well. Weaving her own precise art in mundane things, breathing and living with much imagination that this world might as well be, in her eyes, some kind of a wonderland.

Editor: Anne Clendening
"Like" elephant love on Facebook!