get elephant's newsletter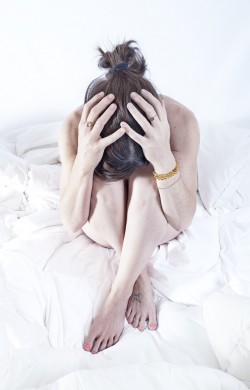 "I hate sex."
This was my mantra, until recently.
I hated it so much, that I became obsessed with it. I was infatuated with the act, the touch, the sounds, the heat. I would observe my sexual encounters, like I was sitting in a movie theater snacking on popcorn—as an audience member. It was entertainment. Never in it, always outside of it.
I used to crave being held down with force and violated. This felt safer to me than making love. I was conditioned early in life to disassociate from my body. To shut down and protect my purity and innocence, because sex was an infliction of shame. I saw the act of sex as a violation. Yet, I recognize that what I hate the most, fascinates me the most. I had predilection for reading about sex, watching people have sex, and having sex as an observer.
The only way I knew how to have sex was to fuck—emotionless, hard and violent. I didn't know how to connect in any other way. Love and sex never fit together.
However, for 12 years, I was monogamous and faithful to one man. I was so monogamous, I rarely had sex with him as our years together progressed. I was petrified he would discover my lurid desires, so I hid them and I disconnected completely. He wanted to make love to me, but I didn't know how. I never knew it was safe to be loved physically and emotionally.
When we divorced, I decided I needed to explore. I needed to know what would happen if I gave into this quiet addiction looming in my mind. I had conjured fantasies that would make Quentin Tarantino shiver. I felt a yearning to be hurt, to be used, to prove it all true—what I thought I deserved, to be treated like a filthy whore.
I was living a double life. Teaching, guiding and leading others and as the darkness engulfed the sky, my addiction eclipsed my heart. I lived a normal life during the week—being a mom, nurturing my children and working. Yet, on the weekend nights when the kids were with their dad, I would go in search of my food.
I confided in a few of my close friends, but I was silent and calculated in action. Everything I did was premeditated. It was almost as if I was hunting for prey, to then I was preyed upon.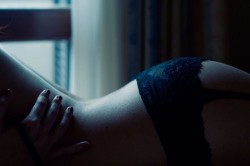 "Whatever I seek, I will find."
I was looking for validation and I found it. Empty sex allowed me to escape, leave my body and disengage from the shame I felt; simultaneously feeding a hunger so deep, I was never satiated.
Today, I had a conversation with my friend about the origination of pain in the human body. The pain we feel in specific parts of the body, is only a symptom of the origination of the injury and manifestation for the suffering.
This is a perfect example of our behaviors, thoughts and feelings. They originate somewhere else, but erupt as symptoms of anger, promiscuity, sadness, depression, disease and addiction.
To search for the origination of my addiction, I had to ask questions. I needed to investigate my body of life. The flare up of my behavior derived from the broken hip of my past.
Instead of only stopping the behavior and saying, "Don't have rough sex with strangers." I had to dig down to the seed and ask, "Why? Why do I invite the act of rough sex with strangers? Why do I leave my body every time someone enters my body? What happened to me that is causing this symptom?"
My job was introspection and self study, to find the answer by discovering the episode—the origination of injury that caused my spiral into suffering.
One night, I was having sex with someone who I knew for only a short time. He was on top of me thrusting in and out like an animal and I began to feel it, viscerally. It was the same sensation I feel when the roller coaster tips over the edge and the free fall begins. There is no exiting the ride, the only choice is to fall into the churn in my belly and hear the scream of breath.
I was disgusted.
"This is your body Rebecca, what the fuck are you doing? Stop! You are responsible for your life. Start searching elsewhere, because you certainly won't find the answer here. Your children, your family, your health, your dignity, your life, you are wasting it. No more, figure out the pain and stop it."
I got up, vomited and walked away. I decided to dedicate to penetrating myself with some hardcore awareness. I chose to abstain from sex for a long while.
In my stillness, rose the root of my pain. I carried this experience with me everywhere. I thought of it often, and when I had sex, I played it on repeat, using my partner's forehead as the screen.
My family and I spent our vacations sailing during my childhood. In the early years, my dad docked our boat in Mexico and we sailed to different anchorages along the coast.
I recall on this particular trip, being docked in the marina. I was only four at the time, and my parents encouraged me to make friends with the local children and explore.
I befriended a little girl who was a few years older than I. My parents invited her to spend the night aboard our boat for a sleepover. I slept in the main cabin, and in the evenings, my father would convert the two opposing built in sofas to sleeping berths, with cloth railings suspended from the ceiling.
Before I climbed in, I collected some of my books to read as goodnight stories, one of which was the book, "Where Do I Come From?"  I think every kid from the 70s and 80s remembers this embarrassing cartooned tale of human body parts, sex and pregnancy.
I was laying in my cocoon ready for sleep, when the girl climbed out of her berth and into mine. She picked up the book and thumbed through it. She paused on the page illustrating the mother and father under the covers having sex.
I remember her eyes changed. She was no longer a little girl. She reminded me of a mysterious cloaked man, similar to the bad guys in some of my fairytale books.
She looked at me and demanded, "I know what that feels like. I'm going to show you."
She molested me.
I knew it was wrong. There was a different energy in our exchange—different from "doctor's play" in the preschool room. She was controlling me, disrespecting me. I was ashamed and embarrassed as it happened.
There was something ominous and threatening in her touch, as if someone had taken over her body.
I didn't want it, I didn't like it, but I was four years old, and I didn't know all I had to do was scream out, "Stop!"
I was scared. I didn't want to get in trouble with my parents, even though I prayed my mom would come scoop me up and save me, make me innocent again.
That was the moment, the episode—the origination of my throbbing pain, which had tortured me for 28 years after. That experience imprisoned my passion. My ability to be intimate with a loving partner was robbed. I let it imprison and rob me. That was a choice.
First impressions are critical. They shape our constructs, our beliefs. My first sexual experience laid the foundation of intimacy—my lack of it, my fear of it.
At the age of four, I learned how to leave and check out of my body when I felt threatened by someone getting too close to me or worse, someone daring to love and care for me.
Now at the age of 33, it is a tedious job—a challenge to stay present, connected and invested in embracing my power and my worthiness.
I never connected my essence with my exterior. They were separate. Being sexy was an outside job for all those years, teenage and on. Low cut, high cut, a look, an act—never a feeling or a sense.
I didn't know yet, what I know now: the sexiness that oozes from exposing my heart and being honest. The kind of sexiness that coats my skin in glitter and anyone nearby is drawn to me like a fish to a shiny hook—not because they want to fuck me, because they want to love me, because I love me.
It took one person to hurt me and it took one person to help me. One person violated me and years later, one person has un-violated me, helped me and is healing me—myself.
Intimacy is the only way through the pain of life. Intimacy is the remedy for the suffering. Intimacy begins with one's self—being willing to look into the darkness of our past and present and accept our experiences, our desires and our demons.
Once we are able to accept all of the experiences in our lives as lessons, we stop defining ourselves by them. We stop being secretive and private. Shame disappears and is replaced by truth and the will to stop hiding. We generously share our experiences.
My behaviors and experiences do not define me—they guide me and help me grow by teaching me self compassion.
The action of living truthfully  is the portal to freedom which delivers us into a life of love–self love and expressed love.
Every "issue" we have, comes from somewhere. We are all capable of discovering that somewhere and ending the suffering. But, we need to be courageous enough to face it, see it, accept it and then take a step away from it. Everything we do, say and think is a symptom of something that has happened. This process of unveiling our cause for being is a life long endeavor. I refer to it as peeling my infinite onion. It is never complete.
Sharing this experience, the cause of my addiction is only one bulb of my onion. There are so many more. I will never be symptom free, because I create a past with every present breath. Therefore, I am committed to peeling my onion every day.
I give them away, all my layers of experiences; they dwell in the ether. Far enough away, they don't define me, but close enough, that I never forget I lived through them.
I'm not afraid of the stench and the tears because as I uncover myself, I become a little  lighter and more lovable—closer to the seed of all seeds, spirit.
My new mantra is: My past experiences will always be there, and that's okay, because I'm okay with them all. They happened and that's that. Now, onward-inward.
By Rebecca Lammersen
~

Ed: Kate B.