get elephant's newsletter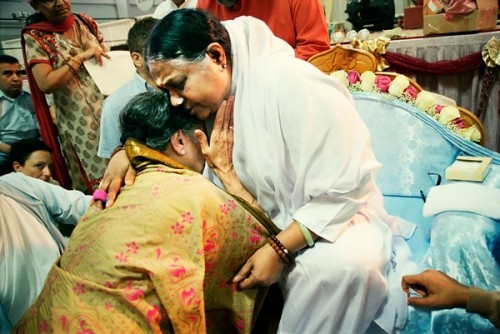 "I have no effing clue what guru hugging protocol is!"
Something new, exciting and mystical happened to my city not too long ago. A guru came to visit. It was during our first ever kirtan-yoga music-festival. It was a big deal.
Her words were profound and powerful. They seemed to projectile vomit from her slight figure at a speed that made instant processing pretty impossible. In any case, it was cool and special and kind of miraculous. At the end of her lecture, a harmonium sounded, tablas clanked rhythmically along, and attendees were allotted an opportunity to hug the guru.
Free hugs?! I jumped off my little round pillow and followed the masses. Somewhere at the end of the long line of enthusiastic embracers, it dawned on me that maybe it was odd to wait in line for a hug. I had never done this before. I certainly had not experienced lingering at length for physical affection in my life before.
The line moved along and, soon enough, I was just a few clutches away from my turn. "Shit!" I thought, "I have no fucking clue what guru hugging protocol is!" I continued to stress, "Should I touch her feet? Is this chest to chest? Should I rub the small of her back or pat her shoulder?" Realizing these thoughts were utterly ridiculous, I let them go. However, lingering feelings of excitement, wonder, anticipation and fear coursed through me. My turn was now just one person away. I started to giggle, giddy with my impending embrace.
Then it happened. I walked up to her and bowed my head in what I hoped seemed respectful. Then I hugged her.
I waited for a surge of energy to flow osmotically through me. I waited for a loving aura to heat me from inside out. I held her tighter. I wished for answers to questions I never knew I had. Then she pulled away. She gazed into my eyes for a time, seemingly in a trance, and it was over.
"That was it?" I thought shuffling on my way. I reflected; I put a whole load of responsibility in this hug. Don't get me wrong, it was a really great hug. Really great! But I could not expect brief physical contact with a stranger to offer me a better understanding of life, could I? No.
We all have the answers inside of us. The practice of yoga, meditation, or simply staring at a vista and zoning out for a while in silence helps reveal our deepest truths. We have to uncover depths beyond the physical, magical and mystical ourselves. Hugs are awesome but we cannot let those warm fuzzies shroud us from looking within.
Lauren Rudick is a yoga instructor, world traveler, jewelry maker and lover of puppies and food. She prefers to be where it is sunny, unless snowboarding. Lauren tie-dyes her own yoga pants and teaches colorful classes with humor and joy. You can join her follies at facebook.com/laurenrudickyoga more concisely on twitter @avignayoga or her website www.avignayoga.com where you can hear about her upcoming retreats and bend/breathe/explore/vagabond alongside her.


~

Ed: Charlene Taylor