get elephant's newsletter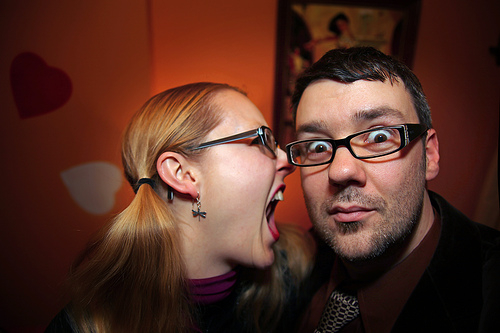 The ability to listen and not react is a skill necessary in a relationship.
Communication is hard! It can be really hard to ask for what we want and it can be even harder to receive feedback about what someone else wants or needs from you.
Often a partner's request can feel like criticism and we don't even realize that we are feeling defensive until we are already yelling.  It's always a challenge to be on the receiving end of someone's feedback, even if it's constructive or given skillfully.  When such feedback is coming from your partner, it can be the most vulnerable.

Being a mirror for your partner, and receiving your partner's reflection, are some of the greatest gifts of relationship. It is natural to want to please your partner; you care about what they need, you want to be of benefit. Both partners can help the other to see their blind spots and change habitual ways of relating with the world.
Of course, it's helpful if both partners know how to give feedback skillfully, without being judgmental or attached to the outcome.
But if you are so triggered and reactive when your partner gives you sincere feedback that you feel attacked or collapse, you are missing an opportunity for tremendous growth. If you can learn to listen and skillfully hear what your partner is trying to say, you will be able to use your relationship as a vehicle for self-discovery and transformation.
It's common to hear your own story when your partner speaks, to overlay meaning onto what you think you heard your partner say and use it as proof of your own "badness."
For example, if your partner says: I need space. You may hear the words: I don't love you anymore.
If you are able to hear feedback without taking it personally, you will be able to hear the neutrality of the content without having a charged or even visceral reaction that renders you unavailable, hurt or shut down.
Perhaps your partner's request for space is an attempt to express his or her own need for self-care so that they can be available to the relationship once they decompress or integrate, etc.
Keep these points in mind if your partner is giving you feedback:
The ability to listen and not react out of fear, hurt or defensiveness is a skill necessary in a relationship.
Just like when you are giving feedback, you need to be in a grounded space in order to hear feedback.
Remember that no one is obliged to meet your needs.   It is your job to advocate for your own needs with regard to pacing and quantity of feedback.  If you have heard enough and need to take a moment, you need to convey that to your partner.
Discern these questions for yourself, before you respond: How am I feeling? What is my truth? What did my partner's request bring up for me? Is the request valid? Can I meet their need? Do I want to fulfill my partner's request?
A need to be right can get in the way of your ability to be in partnership.
Remember that your partner likely feels vulnerable too.  When you realize that you are both out of your comfort zones, you can eliminate any pettiness or bickering.
If something feels unclear, ask for clarification. Asking your partner, "Can you say more about that?" goes further than reacting before you fully grasp what your partner is trying to say.
Don't equate vulnerability with being bad or wrong.  It can feel the same, but if you make a distinction you will not be gripped with unnecessary shame or fear.

If you are grounded and can listen and take in feedback, you can accurately appraise if you partner is giving feedback in a constructive loving way. If they are not, you can teach them!  It's a skill, a practice. Be open to learning, falling down and getting back up.

 Lesley Glenner, as an attachment therapist, helps her clients to have healthy relationships in all areas of life. This includes the relationship with self, intimate partners, family, food and past experiences. She continually travels through the terrain of her own shadow, and is therefore able to skillfully and compassionately guide her clients through their own journey to experience clarity, empowerment, and happiness.

Clients seek Lesley's profound work when they're struggling in their relationships, frustrated that intimacy has been challenging or feel they will never have the loving partnership they long for.  You can visit her website at www.holobeingllc.com.

~

Ed: Madison Canary