get elephant's newsletter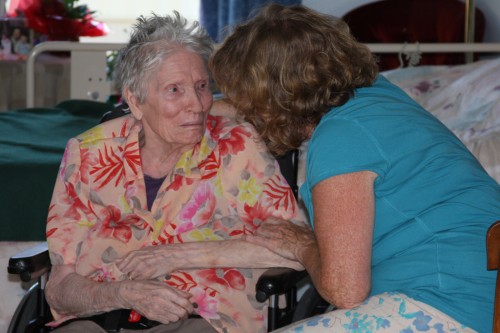 She Says All the Right Things.
Sometimes I miss my mom, though she is breathing.
She's 86 and lives in Florida. She ends every conversation with either "hugs, hugs,hugs" or "love, love, love."
She has Alzheimer's.
She still knows who I am in person and on the phone. She says all the right things at the right time. I don't even know how much I miss her till for one reason or another I am feeling alone or sad and as I let the grief find wings in my tears I sob for my mother.
She cannot process much anymore. Her development as a person stopped a long time ago. Dad keeps growing, and my relationship with him is fun and fulfilling. Mom can listen to what I say and answer questions in the now: "What are you doing? What do you see out window?" But she has no context.
My brother says in the car she reads license plates to figure out where she is.
When I visited last spring she complimented my earrings five times in 15 minutes. Each time is the first time she sees them. One year she was celebrating her birthday in Maine with my brother and his family. My sister-in-law said they gave her a funny card and she kept seeing it again, for the first time, several times, and each time she cracked up.
I cannot tell her anything that is upsetting or anything that requires her to process feeling beyond those which make her laugh. Luckily I can still make her laugh. We joke about dad sometimes. I tell her stories. But it is lost in the next breath.
As a child she played all the time with my best friend, Julie, and I, table games and cards. One year we pretended we were Avon calling and put powder and lotion and all kinds of stuff on her. We were maybe eight or nine years old.
My friend, Julie, and I would make her breakfast and put pepper on her eggs. In ninth grade we moved to Maryland. I had no friends and neither did she. She was depressed and menopausal but I was not aware of these things. Family was a bit in tatters: my brother left school and my sister was a hippie, living with a man a bit younger. My sister being a hippie and my brother leaving school weren't bad in and of themselves but for my small town Southern parents it was hard for them to understand. And she and I hung out, went crabbing, talked and played games.
She was my best friend.
I could always talk to her. She's from a generation where she did not talk about her problems. She kept and keeps things wrapped up tight inside.
Today she watches Ellen Degeneres on television, does puzzles, naps and at 5 p.m. no matter, what she has vodka on the rocks.
She loves chocolate ice cream.
I have to say my dad, who had not ever cracked an egg at 72 now does simple meals, laundry, groceries, and in essence, takes care of her and himself.
The good news is whatever resentments and anger she had held onto for life, she's forgotten.
She seems content if she doesn't have to do much. But not because she doesn't want to do much, but because too much activity creates stress. They go to chair power twice a week. Dad plays bridge twice a week. Their life is simple. She comes to the phone every so often though I talk to dad most every day.
She is here and she is not.
It hurts in a way that I know many know. She's not the same person and yet she is.
When I had a hernia operation, she was the only one with the insight to tell me to take half a pill so I would not feel doped up. And two years ago I had a bananagrams calendar. I could not figure the word out, the anagram and called her: in five minutes she had it.
And maybe it's not Alzheimer's. Her spirit is here. Her heart is here. Yet she's leaving a bit more each year and it breaks my heart.
I am a full time yoga teacher, trained at City Fitness in Washington, DC and Willow Street Yoga Center in Silver Spring, Maryland. I have been writing poetry since I was nine years old. Poetry is my first love and yoga continues to feed my heart. I write because I love it. I teach because I love it. I tell my students all the time: do it because you can. That works for me. I believe in creating opportunity. I believe in helping my self and others. I think faith is the most important gift of life, because when we lose everything else we still have that in our heart. I believe the natural state of being is happiness, or bliss, or Ananda. Life is a celebration. Poetry and yoga help me celebrate. Check out my blog and website here.