get elephant's newsletter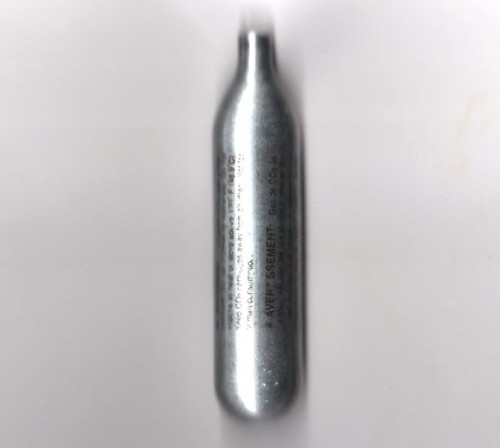 Every time that I hear or read that methane gas is 21 or 25 times worse than carbon dioxide in terms of warming our planet,I fall out of my chair or bang my head against the wall.
Nothing could be further from the truth.  Methane is at least 100 times, or possibly even 150 times more effective than carbon dioxide at warming our planet.  This has enormous implications for me and you, assuming that you live on the planet.
Even the latest IPCC (Intergovernmental Panel on Climate Change) report in 2007 confuses people, although it correctly states that the GWP (global warming potential) of methane is 21 times more effective at warming then carbon dioxide when based on a timescale of 100 years (for carbon dioxide GWP is defined as 1).  The kicker is the 100 year timescale, which is chosen since carbon dioxide lasts for about 100 years in the atmosphere (actually longer, but that would be another blog).  Methane lasts about twelve years on average in the atmosphere.  In drier places (like the Arctic) it lasts even longer, while in wetter places (like the tropics) it lasts much shorter since hydroxyl ions that are derived from water break down methane (the carbon ends up in carbon dioxide when methane is removed).  Over the twelve year lifetime of methane, the GWP is closer to 70x.
As far as the climate is concerned, this 100 year timescale and even the twelve year timescale are not the important factors.
What is important is what methane will do in a year.  And that is warm the planet with a GWP of 150 or even 170 times that of carbon dioxide.
Since 2007, methane has been rising in the global atmosphere.  Historically, the main source has been wetlands.  Bacterial decomposition of plants and animals (anything organic) in the absence of oxygen produces methane (if oxygen is present it produces carbon dioxide).  With the enormous warming amplification of the Arctic methane emissions have been greatly increasing from both thawing permafrost on the land surfaces as well as from the sea floor sediments.  Two years ago the Russians saw methane plumes rising from the sea floor of the Eastern Siberian Arctic Shelf  that were tens of meters in diameter; at the end of last year these plumes were kilometers in diameter; the explosive growth being due to the water over the shelf being 2 to 5oC warmer.  Emissions off Svalbard have also been rapidly rising, and the water is much deeper.  Atmospheric measurements across the entire Arctic have been rising.  Just last week it was reported that the Gulf Stream has shifted west bringing water 2oC warmer onto the eastern North America continental shelves.  And a different paper has detailed increasing emissions of methane from the sea floor along this continental shelf.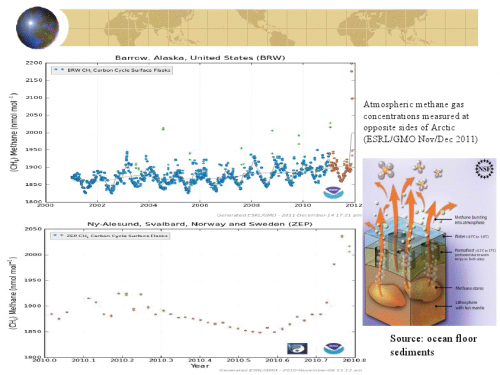 What can methane do to our climate?  Many of the abrupt climate transitions in the paleo-records of the deep past have global average temperature shifts of 8 to 10oC within a decade or two and have been attributed to a) shutoff or restarting of ocean overturning  current flow, or b) to enormous outbursts of methane from the seafloor into the atmosphere.  In fact there are deep scars covering vast regions evident on the ocean floor in various places around the globe (such as off Kiwi country) that are associated with enormous methane burps at times in the past that would have changed the climate.
So we need to reframe our thinking about methane.  What is important to our world is that methane is 150 times more effective at warming our planet than carbon dioxide is.  What good is a number averaged over 100 years when our climate has the potential to undergo abrupt changes that are over in a decade or two?  I am tired of banging my head against the wall.
What can we do?  
Write a strongly-worded hand written letter to our politicians—a phone call would be even better. In the meantime, sign the Moms Clean Air Force Petition urging President Obama to act on climate change.
Educate ourselves and figure out how we can make a difference.  And learn how to grow vegetables and reduce food waste to offset rising prices.
And read all my blog updates.
What do I strongly feel society must do?  Regionally cool the Arctic to preserve the sea ice and snow cover over land while moving to solar, wind, and maybe nuclear as fast as humanly possible.
Paul Beckwith is a PhD student with the laboratory for paleoclimatology and climatology, department of geography, University of Ottawa. He teaches second year climatology/meteorology as a part-time professor. His thesis topic is "Abrupt climate change in the past and present." He holds an M.Sc. in laser physics and a B.Eng. in engineering physics and reached the rank of chess master in a previous life.

~

Editor: Malin Bergman