get elephant's newsletter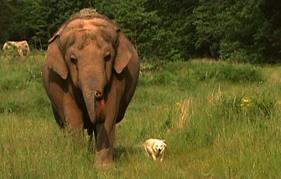 The odd couple!
Beyond the fact that this video combines my two favorite animals, the relationship between this dog and elephant absolutely confirms to me that all beings have souls, animals are gifts to be cherished and world peace is possible.
Alisha Bull practices daily ashtanga and loves all animals, especially  elephants and her four-legged son, Ember. Her favorite place is the beach (or library). She is a yogi, tiny dancer, writer, knitter, teacher, student, dreamer and listener.