get elephant's newsletter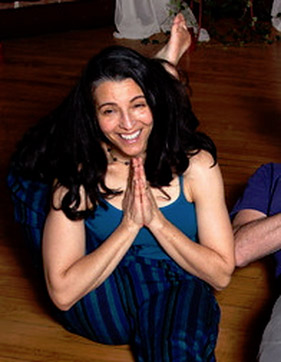 Just like Kino McGregor's recent post, Confessions of a Loved and Hated Ashtangi, this one comes with a picture of its author doing a challenging asana.
Kidding.
That's not me. It's my wife, Laura, and because she never studied with Pattabhi Jois, unlike Kino, Laura's never been called a "bad lady."
Well, maybe once, but I was kidding.
So was Pattabhi; he never meant to make anyone think they were actually "bad." Well, maybe once. I think he really did mean it the time I let him try to help me do a drop-back. I knew it wasn't going to go well, but I let my aging teacher try to hold me in a precarious position anyway. He really had no choice except to let me go.
Thump! My head hit the cement floor hard.
"Bad man!" Pattabhi yelled.
I didn't say anything. It didn't feel good that he let me go and that he yelled at me, but he was right. And compared to my football coaches, his yelling was sweet and cuddly.
Unfortunately, no kidding aside, Pattabhi Jois really was bad in one significant way. I could get into it, but why bother? It's not news. The pictorial evidence of what I'm referring to has been made public already, and I want to keep this post light.
Lightness is good.
So let me start over:
All of the Ashtangis I used to practice with in the old days were good. That's why it was funny for Pattabhi to call us bad. He knew we were good. He just didn't know how good. How could he? His focus was on asana and our goodness had to do with how much we all loved yoga. It was a love that ended up attracting all of humanity to what we were doing.
But at least Pattabhi didn't care what we had on. Back then I wasn't wearing pajamas as much as I do now, but even if I did, I know he wouldn't have said anything. Why would he?
As you can tell from my wife's picture, a person can wear pajamas and still put her leg over her head.
It's just that in the old days, most Ashtangis wore bicycle shorts. I didn't, but most people did, so I was surprised to read that Kino felt like people were giving her grief for wearing "short-shorts."
Really?
In the Ashtanga community?
Really?
Weird. When I was dressing differently I was sure that the only problem with it was in my own head. No one vibed me. I couldn't wear bicycle shorts because of my infertility issues, but I never had to explain it because no one cared.
The truth, though, is that in the old days I did let some things mess with my mind, and when this picture was being taken, I was actually really unhappy with what I was doing:

It was the whole "self-promotion" thing. It felt wrong to me, but I did it anyway.
And now, looking at this old photo again, the thing that sticks out to me is what's on the ground, between my hands. You see? The puddle? Doesn't it look like I just took a leak?
"Bad man."
Anyway, I wasn't being true to myself back then. I should have just kept to my practice. There was no reason for me to do anything else, and the only reason I thought there was something else I should be doing had to do with some situational insecurity issues.
Situational? What does that mean? In a word: infertility.
It was a real bitch. For reasons that I might explain in a future, heavier, hardcore post, I had masturbated into a cup maybe more times than anyone in history. Seriously. I had to have set a record, but in any case, it affected me.
And along with the infertility stuff, I was having trouble with my skin. Due to all the sun damage I got from playing water polo, I was starting to get little skin cancer spots. They had to be removed and the doctors gave me all kinds of warnings. So my skin got pasty white and I was self-conscious about it.
In my mind, Ashtangis living in Southern California weren't supposed to be pasty. They were supposed to look like Tim Miller, so, before that picture was taken, I used a tanning product to darken my whole complexion.
Sadly, it didn't even look good. In black and white, you can't really tell, but the original photos were in color. Instead of looking like Tim Miller's skin, mine looked kind of alien.
It was orange.
So I was embarrassed by my vanity and didn't even have good pictures to show for what I had put myself through.
Blah.
Anyway, that explains what happened to the original photos. I tore up the contact sheet in disgust, and the only reason I still have a picture at all is because a black and white photocopy ended up in some printed material I still have. Yuk. It's amazing how embarrassing things can just refuse to disappear—especially when they connect to a particular challenge.
And maybe Kino has had some tough times too. I don't see any telltale signs of it, but you never know. Especially when it comes to celebrities—even yoga celebrities—it is really hard to tell what's going on, and while nothing in her so-called "confessions" would qualify as evidence, that's probably for the best since real confessions can harm a successful yoga teacher.
Honestly, I think real confessions always harm successful yoga teachers and I think that's true regardless of what they confess to. It can be anything, large or small. It doesn't matter since the energy of any real confession, at a minimum, gives off an unattractive, guilt-ridden, slightly slimy ickiness.
Right?
My confessions here don't make you want to attend one of my workshops.
I don't have workshops, but I'm sure you get my point.
If a successful yoga teacher wants to keep being successful, she better not do anything more than admit to things she's actually empowered by. Kino is empowered by her short-shorts, and she admits to that. That's why she received so much support in the post comment stream.
Her admissions made her look good.
There's no way a man can make his infertility look good, but I'll try. As you can tell, I don't feel embarrassed about the condition of my sperm. I never did. I was quite open about it, but what I kept to myself was the idea that my infertility actually made me separate and special—especially in connection with Ashtanga.
I was not just infertile. My sperm were completely dead, and that's a whole different ballgame. Lots of men have "low motility."
During the last twenty years, I've never even heard of anyone else having dead sperm. The doctors used the word "necrotic." I thought that was a cool word, and because I was a successful episodic television science-fiction writer at the time, I appreciated the sound of cool words.
Oh, pardon the digression, but that point also goes to why I felt bad about having my picture taken for "promotional" reasons. At the time, I was rich. I was still making lots of money myself, and I was still married to a big Hollywood executive.
So what the hell did I need with promotional photos? Yoga money—not even big-time yoga money—was ever going to come close to what my ex-wife and I made. No way. And twenty years later, I still get royalties for what I wrote back then.
But here's the thing: because extensive medical exploration, (including a testicular biopsy), had proven beyond a shadow of a doubt that my sperm were way too dead to ever come back to life, and because that fact had been established before I ever started practicing Ashtanga, I really was in an unbelievably great position to recognize the power of what I was practicing.
And Ashtanga did come through.
So why is she my ex-wife?
Well, I don't want to get into that. It's too sad. Suffice it to say, the eggs didn't take, the stress of infertility finally broke up the marriage, and on the first night of our separation, the person I had lived with for 18 years had sex with some Hollywood producer and became pregnant.
Plus, it got worse.
For me, it got much worse, but all I really cared about was doing Ashtanga.
Because of what happened with my sperm, I had incredible faith in the practice. And I knew it was okay for me to teach. I didn't need Pattabhi Jois' say so, and I knew I wasn't "bad" for going off on my own. I wasn't bad for going off on my own, and Kino wasn't bad for staying in the fold.
I'm also not bad for wearing pajamas.
It would help, though, if I would at least wear newer ones. At least then I wouldn't look homeless. But I'll tell you one thing, looking homeless can lead to some cool moments in life, and I was reminded of that fact just the other day at "Fantastic Sam's."
I think that's what the place was called. Anyway, I went somewhere to get my haircut. As usual, it was way, way overdue. Laura had made that clear, so I guess I was looking extra scraggly, and I'm sure you get the picture. No hairstylist was going to want me as a customer. Why would she? She doesn't know that I can still jump back in padmasana.
And sure enough, even though the young lady at the desk was nice, I had to wait awhile before an actual hairstylist finally waved me over to her chair. But then she was professional. She asked me questions about how I wanted my hair cut just like she would if I were wearing pants. Plus, the cut was good. It was done just a bit too quickly, and I was left me with a wet head, but that was okay with me. So at the end, I gave the hairstylist a huge tip. Then I gave her enough money to make her absolutely certain that it was a mistake.
It was kind of priceless, actually. The speedy hairstylist suddenly stopped and looked at the bills. She looked too long, so I knew she was wrestling with her conscious, wanting to be honest and say something to me, but also wanting to keep the money.
Poor thing.
Finally, not being able to take it anymore myself, I let her know the money was hers.
"You're welcome," I said.
Bad man.
I mean, good man.
I mean, good bad-man.
Scott Smith Miller is the Director of Western Yoga College. He has written three yoga books, including "What Is(n't) Hatha Yoga." Go to www.westernyogacollege.com for more information.
Assist: Sara Crolick/Kate Bartolotta