get elephant's newsletter

It's never easy to start again as a yoga teacher in a new town. But does it need to be that way?
I just moved to Portland, Oregon from Albuquerque, New Mexico. I came to Portland to live in an ashram and study with a meditation master. This is not my first move as a full-time yoga teacher and I realize that every move means starting over again, regardless of experience.
The part I can't get used to is that too often, a stranger in a yoga community is not welcomed.
I began teaching in Washington, D.C. in 2003. I was fresh faced and eager to prove myself as capable and intelligent, but I was still a new teacher. Many classes were inspired. Just as many were train wrecks. I kept trying to hone my skills and be a better teacher.
I took every teaching gig I could get, and ended up teaching 27 yoga classes per week. Prenatal, chair yoga, corporate classes, yoga for cyclists and runners; I taught to learn more. The teacher training I had graduated from asked me to stay on, and conduct the training. I was honored, but not ready. I remember long nights of preparing for lecture classes, and returning intelligent questions from students with blank stares, but I kept going. I studied the Hatha Yoga texts, took workshops from teachers, and traveled to meet gurus and masters.
After two years of teaching in DC, I yearned for my hometown of New York City so I moved back. I was still new to teaching yoga, so I had no problem paying my dues. I studied with Swami Bua and Dharma Mittra.
So, I began spending more time at Dharma Mittra's center. Seva (service) that began as sweeping the floors after class, quickly became 12 hour days of working the front desk, teaching classes, cleaning bathrooms, running errands, and performing all night inventories of the shop. I was never paid for my work. But, I earned the ability to substitute classes for Dharma Mittra himself. And more work came my way, but not enough.
Another two years passed. Working 12 hour days without pay left me homeless. I couch surfed, spent a few nights on the subway. I went from having a house full of possessions to nothing but what I could fit into a suitcase. To this day, I still don't like having too many things since I worry about having to carry them around.
I'd like to state that my time at Dharma's center was my choice. I was not forced to continue working without pay. I learned very much through Dharma Mittra. And I was lucky enough to meet Swami Jnanande, who continues to tutor me in a variety of subjects, and was responsible for bringing me to Yogi Gupta, my first Guru (yes, I said Guru!).
But I was still homeless. And being homeless sucks. I had family in New Mexico. So I retreated to Albuquerque to finish my undergraduate degree and mostly, to lick my wounds.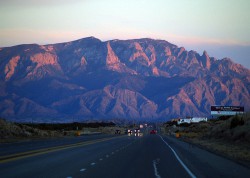 Albuquerque is a harsh town. The sun is ever shining, but cruel. The spring winds howl through the city, carrying dust and debris. The winters are cold and it is always dry. I had never had a man randomly grab or fondle me on the street before I lived in Albuquerque. It is a town of extremes. And as ugly as it could be, it could be just as beautiful; as uncivilized as some of the inhabitants behaved; others were shining examples of kindness and generosity.
Looking for work as a teacher was challenging. I sent out emails of introduction with my resume attached to all the studios in town (there weren't that many in 2006). I received no responses. I took classes at studios, trying to get to know the teachers.
I took a class at one studio where the senior teacher chastised me for doing all the poses wrong and never told me how to do them right. I took classes at another studio where the teacher nearly dislocated my shoulder in a botched down dog adjustment. After class she told me my practice was distracting the other students. I was one of two students in that class.
So, I withdrew. I took a class at the University of New Mexico taught by Maggie Siebert. (She's amazing, and if you're in Albuquerque—take her class!) We talked. We began practicing together. We started inviting more people to join us. And when she heard of a teaching position opening at the university, she recommended me for it (and I got it).
At around the same time an old hippie, looking like Mr. Natural from Zappo's Comics, approached me. Did I teach yoga? He had a space. And so, Sani Yoga was born from nothing more than a dream. We had no initial capital, no budget for props and no money for advertising. It struggled for the first two years and six years later, we'd graduated three groups of teacher trainees, taught thousands of students, and were still charging only $5 per class.
Why did I leave New Mexico? I'm wondering that now… I had corporate clients, government contracts, my own studio, and a position as an adjunct lecturer at the biggest university in town. I taught between 15-25 yoga classes per week. Sometimes seven days a week. I loved welcoming new people and expanding our community. My practice had become the improvement and growth of students and our community. But I also realized this left no more room in my life for a personal practice.
A friend had a guru who sounded like magic. I was skeptical. I had my own teachers and gurus, but they all died shortly after I moved to New Mexico. Not having any teachers of my own left me directionless. Working constantly left me with no time for a practice so I asked my friend if her teacher would come visit and he did. And my life exploded the way it only can only when you meet a guru—he invited me to his ashram to study.  I could not pass up the opportunity so I visited and decided to move there.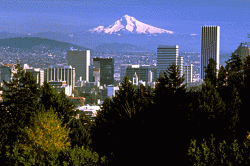 Portland is lush, moist, fertile and green. Even the tree trunks are inviting, covered in velvet moss. I spent one whole day running around a public park petting and fondling trees. The sun, when present, is joyful. When the sun is absent, the greens and yellows of the ever-present foliage are brighter. The environment is the antithesis of Albuquerque.
Now in Portland all of my previous yoga experience is irrelevant. No one cares if your resume includes public schools, universities, Cirque du Soleil and the Department of Defense. It doesn't matter if you've run yoga studios for yourself or others. Yoga teachers I've met casually have told me, "Go to classes and get yourself noticed!" Pardon my sarcasm, but…no shit!
I'm also aware that the ashram I'm living in will first hire its own teacher trainees before considering me. It is difficult to be in a field where experience is often trumped by youth. Students will try teachers that are young and thin first, thinking "if I do her practice I'll look that, too!" The only way you can look like a 22-year-old (again) is with a time machine or a very skilled plastic surgeon. I've seen teachers with eating disorders, drinking vinegar to combat hunger pangs, who still have packed classes. It didn't matter that the teacher in question stayed on her own mat throughout the entire class, and didn't give a single clear direction—she looked the part and that was enough
Unfortunately, the business of yoga has become one of competition, not collaboration and glamor over substance. The studio owners want to be the most senior teacher, the most skilled and knowledgeable. A student with an advanced practice is a threat. A teacher with an advanced practice is seen as "ego driven." I see teachers obsessing over alignment principles and I wonder if it's an attempt to stall students' progress…keep the student in their head and focused on perfection, rather than on growth and advancement.
The reality is that studios and teachers need to be more welcoming and receptive to other teachers. Yoga studios were never meant to be cliques of aging sorority girls.
It also not in the best interest of a yoga studio to hire their trainees when there are more experienced teachers looking to teach full-time. A newly graduated teacher trainee, regardless of how well trained, rarely has the necessary wisdom to teach an interesting or safe class. The result of this is that newcomers to yoga end up thinking mediocrity is the norm, and seasoned practitioners find another business to support. Of course, I'm all for allowing new teachers to lead 'community classes' that are donation based. This gives them experience, lets students know the teacher is new, gives people a chance to support new teachers, and provides affordable classes back to the community.
It is our responsibility as teachers to raise the bar and improve ourselves by never ceasing to be students.
We should support one another by taking each other's classes, and offering feedback that is positive and nurturing. If we attended more classes, showed up for workshops, put our egos aside and became receptive to growth, all our classes would be full since abundance is contagious. There would be enough work and revenue to support us all and even more people would be benefiting from the practice. And we would also welcome strangers and their perspectives, without the need to know the pain of being a stranger.
If you want open hearts, you first have to open your doors.
Welcoming new teachers (and students) into a studio is common sense. It's a form of networking, learning, and growing. Imagine a world where cross-promoting across studios and cities was the norm. Imagine how many new students we could bring to the practice! Workshops would be accessible and allow us to travel freely to new places and share. Our student base would be more diverse as we recommend one another's classes more often. By helping other teachers, we help ourselves be better teachers and yogis. So, how about it?
Maya Georg is much loved for inviting and challenging students to learn more advanced asanas in a safe and playful way, breaking them down to make them more accessible to a wider group of students.   As someone who could not even touch her toes when she started into yoga in 1999, she is living proof in the transformative power of the practice. She studied with Dharma Mittra, Swami Bua, Yogia Gupta and Swami Chetanananda. Having founded Sani Yoga in Albuquerque, New Mexico in 2009, (where she also served as an adjunct professor at the University of New Mexico) she taught hundreds of students in yoga as well as conducting her own yoga teacher trainings which left a lasting legacy of highly skilled and authentic teachers. She has taught in New York City, sometimes substituting Shri Dharma Mittra's classes. She's worked with students as young as 4 years old to 95 years old, performers of Cirque du Soleil and expectant mothers. The settings in which she has taught is just as varied as her student base, teaching in NYC public schools, yoga studios, universities, gyms and the conference rooms in office buildings. Now in Portland, OR, she continues to teach private lessons and workshops all over the United States and Europe.

Ed: Brianna Bemel