get elephant's newsletter
I pulled up to my yoga studio this morning to an interesting scene.
The whole block was "Warning" taped off and police were everywhere. As I approached, I was told I could not get onto the block or up to my studio. I asked the officer what happened.
"There was an accident. Someone was hit by a car and killed last night."
My blood ran cold. I was taken aback.
I don't really know how to describe my feeling, mostly because there was so many of them.
I was shocked, I had not felt that close to death in a long time.
I was confused. How can this just happen? Right here? In the middle of my day?
I felt guilty. Why was I thinking about my day? What did my day matter?
The fact that someone else's journey could so abruptly and painfully bump into mine was humbling.
Here (or I guess there) was a person I have never met that just forever changed my day and life.
Class was cancelled so I had the afternoon off.
I found my way to a local cafe and sat down to eat my lunch. Not expecting to have to feed myself, I had only brought an avocado and some nuts. I was too broke to buy anything else.
Grumbling over my lack of funds, I sat and ate my avocado plain, with a spoon.
Not two bites in, I burst into tears.
What was I really complaining right now?
I have food, that makes me luckier than most of the world's population and I have my life, that makes me luckier than whoever is now splattered all over that pavement.
What gives me the right?
What gives me the right to be sitting here right now?
Why am I sitting here right now?
Why wasn't I the one plowed over by that car last night?
I felt even more guilty.
Do I owe the "universe" something because I was spared?
Do I hold some sort of survivor's obligation or even contract?
Car accidents, heart attacks, suicides… Not a second goes by that someone in this country isn't dying.
Do all of these deaths saddle me with the same contract?
Being the person that I am, a firm believer in guilt, obligation and the interconnectedness of all beings, I answer yes.
If you're alive right now, you also have survived so now have this obligation, too. It's not a choice, you don't get to like it or not, it has been bestowed upon you by the cosmos by the mere fact that you are breathing in and out. But don't worry, it's a good one.
What does it entail exactly?
Not being as articulate and profound as I would like, I did a Google search. (As I do to solve all of life's real problems.) And turned up what I am calling, The Avocado Manifesto. (Though it is really the Holstee Manifesto and I invite you to learn more about it here.)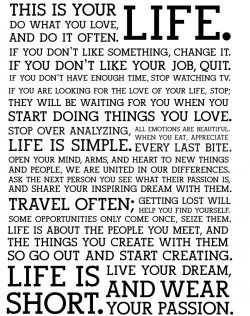 Some of these are large, some of them are small. Most of them are simply a change of thought and perspective.
My change of perspective for today:
I just ate an avocado for lunch. It was just me a spoon and an avocado…. and it was glorious!
What can you do to fulfill your end of the contract and more fully live up to your obligation?
Is it a huge change or can you just make a shift in your perspective?

Madison Canary has more questions than answers. Years as a professional ballerina brought her to Yoga which inspired her to start Yoga N Motion, a company focusing on injury rehabilitation and performance optimization for professional athletes and performers. Movement mentor, dancer, yogini, performer, healer, instructor, writer, lover, ASL interpreter, mover, shaker, surfer. She soon hopes to add runner to this list and hopes you will find her on Facebook so you can be friends.

Ed: Kate Bartolotta