get elephant's newsletter
Life doesn't have to be the boring eat-sleep-work, mundane, same-ole-same-ole S.S.D.D.
Are you awake? Yes? You sure about that? How's your day been? Actually, how have most of your days been?
If you're reading this, it probably means you're awake. But just how awake are you? Have you had your morning shower or cup of coffee? Have you opened the blinds to let the sun shine in? Has today slapped you in the face yet?
Most people live their lives on autopilot not noticing a damn thing around them. What I'm curious to know is; When was the last time life slapped you in the face and made you feel utterly alive?
Maybe it was when you:
a.) jumped off a rock and dove 50 ft down into the water and experienced true adrenaline;
b.) witnessed your baby being born;
c.) had a life-altering dream during the rock bottom phase of your life;
d.) took that long-needed sabbatical to a foreign land where you witnessed an all-new way of life and met people you never thought existed, or;
e.) had an epiphany after reading an amazing book.
My friends, I'm here to remind you of some very old news: you don't have to wait for huge, life-changing events to happen in order to feel alive. You can open your eyes right now to see what's right in front of you!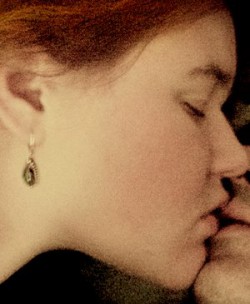 Why is it that after society tells us all we need to be happy is money, a car, a house, cable TV, the latest consumer products, a college degree, and a retirement savings, millions of people are still so unhappy? Why?
Because people are asleep!
Life should be sensual.
We are creatures of pleasure. We do what feels good. So why not feel good and alive in every moment?
Life should be a sensual experience not limited only to the bedroom. Each day can be delightful! Because why not? What else are we here for?
We have five senses; physiologically speaking. Many would suggest we have six.
I invite you now to reawaken your awareness of them:
Open those big, blood-shot eyes of yours and look around. No, no, not at your cubicle or the paint on the walls. Look at the sky, the shapes of the clouds, plants, colors, your skin, the hair on your pet and the architecture of buildings and cars. What sights excite you—a naked body? A mountain range in the distance? The glow of the fish in your aquarium? Are your walls at home, work or screensaver decorated with pictures you love to look at? Open those blinds, for cryin' out loud!
Look at other people, especially the ones you love. If you choose to really see them—their clothes, face, wrinkles and body language, they'll tell you their story and reflect yours back to you.
You are surrounded by art—the art of Man; the art of God.
We take showers every day; in, out, dry off and done. Take a bath for a change. Float in the water. Allow yourself to take notice of the water on your skin. Touch yourself, feel your skin; how it awakens the electrical impulses between your body and your fingertips.
The body's largest organ is the epidermis. It senses, it communicates with your brain. Apply lotion or coconut oil after you dry off.
Be good to it—it's the only skin you'll ever have. Treat yourself to a massage, or massage someone else! Kiss and hug your loved ones. Love your body. Love your lover's body and feel how they respond to your touch. Squeeze someone's shoulders and watch how they melt. Feel how an attentive touch can heal.
Have you ever touched the smooth glide of a dolphin's skin? The sleek feel of patent leather? Soft fluffy wool? The velvety petals of a rose? 800 thread count sheets? Cotton picked right out of the ground? When's the last time you ran your fingers through someone's hair besides your own? Make a list of Things To Touch.
Use that skin of yours! Feel the information seep into your pores.
After you've opened those darned blinds, get back up and open that darned window. Turn the a/c off and roll the windows down. Get some fresh air. Inhale and exhale with a deep awareness that you are alive and your lungs work only to serve you. The blood needs oxygen, so give your cells what they need!
Simply inhale and smell things. Can you name them? Test your nose out and see if it's still working! I smell coffee, lavender, laundry sheets, rain and something that smells like an old hope chest. Isn't it lovely how a person can walk by, you catch a whiff of their scent and it can take you to a place you'd never thought you'd return; grandma's house, your first love's neck or a memory you cannot place?
Every time my daughter hugs me, she says, without fail, "You smell so good, Mommy." I don't even wear perfume.
I feel like I'm home when I walk into a hippie-health store. What is it about all those natural foods, soaps and essential oils that comforts me so?
When I'm with my lover, we love to smell each other. Scent is our foreplay.
Let it be yours, too.
Listen to the trees and the leaves swaying in the wind. If you listen close enough, it sounds reminiscent of ocean waves. Hear the sounds of the variety of birds, the dogs in the distance, the mumblings of passer-bys, even the zooming of cars. Tune in to what's around you. The world is a living presence. Be in it. Listen to your loved ones. They could be gone tomorrow, and you might find yourself replaying that voicemail over and over.
Sounds are a vibration. They have a frequency—an energy. Aside from music and all its glory, there are an endless assortment of sounds that make life worth living: laughter, a cat's meow, the echoes of frogs in the heat of the summer, the "school's out" bell, the ice cream truck around the corner, the mousey sound of your child's voice ("Dinner's ready!"), ocean waves, rain, thunder, a standing ovation, "I love you," the wet smacking of a great kiss, the "Oh's" of orgasm!
And in a world full of noise and chaos, silence is golden.
We wake up in the morning and drink our coveted coffee. Let the aroma and taste of the coffee beans mixed with cream liven your senses. Let its soothing decadence slide down your throat.
Eat with passion! Savor every bite! Close your eyes as you chew and swallow. Feel what it does to your mouth and your body. Have joy in it. Cook your food with love in the knowing that it will nourish you and assist you in all the things you do with yourself. Experiment with herbs and spices.
Also, your lover has many tastes. Explore them. Taste them. The tongue has other functions besides performance alone.
Our Sixth Sense: Intuition
If thoughts are vibrations, then it isn't any wonder why someone calls the moment after they've popped into your head. Notice how you have "a feeling" that you should go somewhere, and once you arrive, something awesome happens. Notice that feeling or knowing to not go somewhere only to find out something horrible happened.
Put your intuition to the test. Walk into a bookstore and allow yourself to be led to the perfect book.
We live in a world of distraction. Therefore, meditation is the key to unlocking that sixth sense to serve you well. Find a quiet place. Turn inward. Become aware of your inner feelings. So many answers lie within you. Messages are waiting patiently for your reception.
Intuitive guidance is but a prayer away. Hence, yoga.
Life is about the little things.
The sensual senses are gift. Love each tiny little thing you do. Do it with gusto and intensity! Live with care and take note of how it makes you feel. If it doesn't feel good—stop!
Let your enjoyment of a sensual life be a beacon of light to others. Show them that life is worth living!
Be the Sun in your own Universe! It's called "life" for a reason.
Carrie Wilkinson is a mother, massage therapist of 15 yrs and a writer/blogger of erotica under the pen name C.A. White. The human body and human sexuality fascinate her. Her life is dedicated to the Divine Feminine, living an erotic life and showing others how to do it. She lives in California where she is soon to release the first book of her erotic trilogy. Find her on her blog (http://authorcawhite.wordpress.com/), Twitter (https://twitter.com/MermaidLion), and Facebook (http://www.facebook.com/authorCAWhite).
~
Ed: Kevin Macku/Kate Bartolotta