get elephant's newsletter

I've never been a huge fan of diamonds.
I just don't like how they glitter, their all-too-perfect appearance and that they always seem to be accompanied by a grey suit or a silken cocktail dress.
They're too dull, too conservative, too un-original. In short: they're just not my style.
But more importantly, they symbolize values and a dirty business that I do not want to be associated with. And after reading Jason Miklian's article "Rough Cut" in this month's issue of Foreign Policy, my dislike for this so-called "girl's best friend" reached new heights.
In the article, the reader is taken on a train journey with the Gujarat Mail, a superfast train in the very busy Western Railway zone of India. The train is leaving Surat, a city on the coast of Gujarat state, and is heading for Mumbai. Besides the more common "luggage" of sweaty passengers, the train is also carrying not-so-sweaty diamonds.
Lots of them.
Because Surat is where most of the world's diamonds have to pass through in order to get polished and ready for their grey suited- and cocktail dressed customers. This is where dirty stones from all corners of the world get their glittering appearance, including the all-too-familiar "blood diamonds."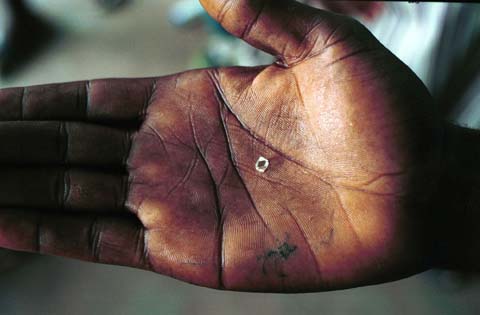 Why? Because Surat has something Antwerp in Belgium, the "ex-diamond capital," doesn't have: cheap labor and no documentation needed.
Did you know that the world's diamond business is run on Post-it notes?
I didn't.
Or that angadias, secret diamond couriers, get two dollars to carry stones worth $20,000, and that they can carry stones up to $150,000 of worth a night?
I didn't.
Nor did I know that child labor is still so prevalent. Or that diamond laborers work 100 hours a week, causing them lost eyesight at the age of 35.
And I had never heard of "diamond lung," an all-too common respiratory disease in the diamond working world.
This business is still a dirty one and if you want a good, real-life story about it, I strongly recommend reading Jason's article. Or, if you're more of an image person, have a look at his slideshow based on the same story.
Diamonds may be Tiffany's or Marilyn's best friend, but not mine.
I am perfectly happy with my unpolished, un-glittering, turqoise medallion.
Katinka is an adventure-seeking, wine-loving yogini with a passion for the unknown. Her curiosity has led her into many peculiar situations, from having tea with Sudanese ministers and roadtripping through India's heartland searching for guerrilla soldiers to crossing the Alps on skis. She loves contrasts, which is why you find a mix of high heels, climbing shoes, cowboyhats and yogamats in her closet, and strongly believes it enriches her life. When she is not in the classroom teaching French, you will find her climbing a mountain, working on her handstand or under a blanket reading while sipping a tempered Côte de Rhône. Get in touch with her by e-mail or facebook.
Ed: Lynn Hasselberger