get elephant's newsletter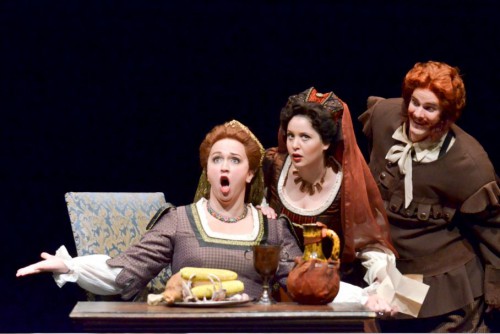 Verdi's Falstaff, with an emphasis on funny
CU Opera production features noted alumni, professionals, students March 15-17
BOULDER, Colorado—Bradley Thompson, who played the lead in CU Opera's 2001 production of Falstaff, will reprise the role in a new production of Verdi's beloved take on Shakespeare's The Merry Wives of Windsor and Henry IV.
The new production will feature a diverse cast that includes internationally known tenor Björn Arvidsson as Dr. Cajus, as well as up-and-coming stars from the CU-Boulder College of Music, directed by Leigh Holman.
Holman says the emphasis will be firmly on comedy.
"If you like 'I Love Lucy' you'll love this show," she says. "This is like Ethel and Lucy in a situation comedy."
Drawing mostly from Merry Wives, the opera focuses on the eponymous knight. One of Shakespeare's most famous characters, he's a somewhat pompous, but jolly, lover of wine and women. He is drawn into a web of deceit when two married women he's tried to woo trick him into a series of foolish antics and delusions. He winds up spooked and wearing antlers while fake fairies and nymphs cavort in the forest.
"There are big laughs, lots of slapstick and physical comedy," Holman says.
Thompson, who graduated from the College of Music, is now Assistant Professor and Coordinator of Voice Studies at Denver's Metropolitan State University. Arvidsson, who has performed in more than 60 operas across Europe and North America, will play Falstaff for the Saturday night performance. Jeffrey Seppala will play the lead for the Friday and Sunday performances.
Falstaff
By Giuseppe Verdi
Directed by Leigh Holman
WHEN: 7:30 p.m. March 15 and 16; 2 p.m. March 17
WHERE: Macky Auditorium, University of Colorado Boulder
TICKETS: Starting at $14; go to cupresents.org
BOX OFFICE: 303-492-8008
Clay Evans
Director of Public Relations
CU Presents
302 UCB
Boulder, CO 80309
CU Presents
offers the best in performing arts on the University of Colorado Boulder campus, including the Artist Series, the College of Music, the
Colorado Shakespeare Festival
, CU Opera, the Holiday Festival, the Takács Quartet Chamber and Encore Series, and CU
Theatre & Dance
.
Clay Evans grew up in Boulder. He spent 25 years working in journalism.
Like elephant Culture on Facebook
~
Assistant Editor: Jennifer Townsend/Ed: Kate Bartolotta