get elephant's newsletter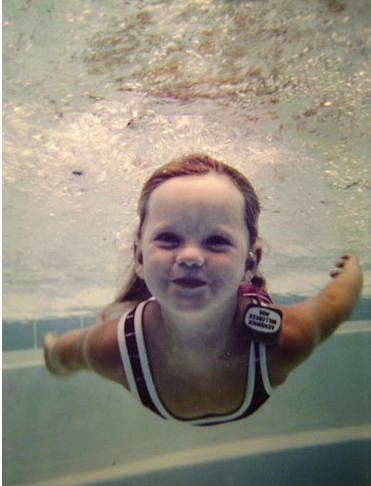 Dear Dad,

Can you believe that I can do the flip at the end of my laps now? I can't remember if you used to do the flip-turns or not when you swam. All I remember is you, swimming in circles, disobeying the rules to the detriment of other swimmers. But I'm not here to criticize you.

I really just want to say that I miss you terribly.

I miss so many things about you. I miss how funny you were, even though my teenaged-self couldn't admit that you were funny at the time. I miss your kind blue eyes, your love of U2, and the way we used to rock out to Annie Lennox in your pimped out Cadillac. My last therapist said that you were definitely a black man in a former life, and I tend to agree. I wonder if we knew each other in that life. Maybe that's why gospel choirs always give me the shivers.

It makes me so sad that you aren't here to see Stella grow. She's almost potty trained now! Last week, she got an outstanding report card from her 2's class. She has mastered every skill, except for tidying up. But that, of course, is her choice.

Why did you have to go instead of Mom? I hate her!

Well, my adolescent self hates her. I'm more indifferent, really. As The Lumineers say, "The opposite of love's indifference." She never cared to get to know me. Her narcissism prevents her from really loving. Did you know that she was narcissistic when you married her?

Even after 10 years, I'm still too young to have lost a dad. Sometimes, I just can't bear it. Last night, I tried on all sorts of jeans that I knew wouldn't fit, a sure way to move from my heart to my head. I guess I was searching for you, Gene.

I hate that cancer came and stole you away, just after you had finally found true love.

A woman who didn't mind wearing the same t-shirt as you, or seeing the same psychiatrist. A woman who was loyal, even in your joint desire to be thin. Was it a folie a deux? Not really, because you each joined the relationship with distorted body-image and restrictive eating patterns. Still, together, you ate. She made salads with deli-meat, and you ate. She made pasta, and you ate. She made fish, and you ate. I never saw you eat so much in my entire life. She was many years your junior, but I wouldn't call her a trophy wife. You were her first love, and she has vowed to forgo all other men for the chance to be with you again in heaven. I'm not sure I agree with her beliefs, but I respect her determinism.

I want to believe that you are around me, even now.

I want to think that it is you dancing around when I see glimpses of movement in my peripheral vision. I want to feel that you are behind the cold breeze that suddenly touches my shoulder when no window is open. I want to understand that it is you, who makes me turn around, sure that someone just whispered in my ear. That you were the fly in the OB-GYN's office at my first ultrasound. And then, again, at Stella's first few pediatrician visits. Each time, the nurses would marvel at how unusual it was for a fly to be in the room. Or, even now, that you are the deer, looking at me, from across the pasture.

So, meet me at the pool, tomorrow, 12 sharp. I'll show you my flip-turn, and you can swim circles until your heart's content.

Love,
Hayley

Dr. Hayley Bauman is a writer, psychologist, and Dave Matthews Band aficionado. She believes that peace and love can save the world, and that we can learn these traits from animals. She is currently developing a relationship with an opossum, named Iggy, who comes to her porch for organic gala apples every night. You can check out Dr. Bauman's books, "Serendipity and The Search For True Self," and "The Write to Heal: How Writing Heals," You can also connect with her through facebook, or read her psycho-spiritually themed articles at dontburnthepig.org.
Assistant Ed: Wendy Keslick
Ed:Brianna Bemel