get elephant's newsletter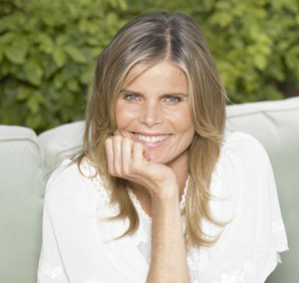 At 50, I think I have my first girl-crush.
She's just one of those people whose interior light shines so brightly from the inside out. It's the kind of grace and beauty that kicks some inspirational *ss.
For anyone who may be unfamiliar with Mariel Hemingway, she is indeed the granddaughter of legendary writer Ernest Hemingway. There's a new documentary featuring Mariel and her personal journey to understand her complicated family history coming out soon called Running From Crazy. Aside from her intense heritage, she's a well-known actress and activist in her own right and recently used her celebrity status to support Proposition 37 to help get GMO labeling in California (which didn't pass), and continues to help raise awareness about the realities and dangers of GMOs in our foods.
Over the years I've been familiar with hundreds of philosophical, motivational, spiritual and self-help gurus, many who've had some good points, but mostly they screamed, "do it this way, and you will be [fill in the blank—free, at peace, happy, rich…].
In preparing for my interview with Mariel, I read about The Willing Way, her new book/philosophy/lifestyle, and saw videos of her and her partner, Bobby Williams. The two of them are so physically gorgeous, graceful and happy that it's almost depressing. Watching them do serious rock climbing or laughing as she falls off her dirt bike or meditating on the side of a mountain seems so unattainable—almost as unattainable as her yoga perfection.
But, then the envy passes into a genuine appreciation for their passion and path. It did make me stop and ponder, why I am not feeling like that?
I had corresponded with her and interviewed her by email last year, but we finally got her on the air and I'm so glad we did. Hearing her vocalize her passion for the path she has found—and her genuine wish to help people find their way to their own brand of passion for life—is just the inspiration this Green Diva needed.
We talked about why GMOs suck and about the new book coming out. She's the real deal and I'm looking forward to getting some more of Mariel when she comes to New York in April for her book tour. She's going to try and coordinate coming to the studio to do a special show live with us.
Yeah, I feel pretty special this week. Mariel's energy is like a wonderful virus and I'm definitely infected.
Green Diva Meg (aka Megan McWilliams, host of The Green Divas Radio Show) is a TV/radio/interactive content producer, blogger, product/book/restaurant/film/anything reviewer, humorist, and recovering ex-publisher. Having fun. Keeping it green.
Ed: Lynn Hasselberger