get elephant's newsletter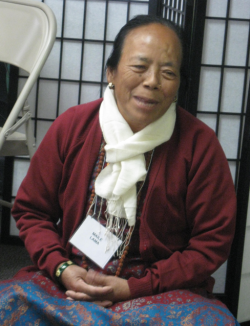 On my way to the conference the other day, drum and notebook in hand, I could hardly contain my excitement.
There were several presenters I wanted to see, yet Maile Lama, the Tibetan Shaman from northern Nepal, was really my focus.
She had performed a simple healing ceremony for me many years ago when she had first come to Boulder, staying with a mutual friend. I remembered her shining eyes, petite form and sweet demeanor.
I was not disappointed. As I arrived early, I found her sitting with her interpreter and we began a conversation about her travels and my astrology work. I felt a closeness with her.
Over the course of the weekend, I was continuously delighted with the invitation to participate in journeys, healings, and to sing indigenous songs that opened my heart.
A sense of community began to grow among the 80 of us there. People shared their personal stories and their present experiences after they had volunteered for an aura clearing or soul retrieval.
There was a sense of authenticity I felt from the presenters that allowed all of us to be in our truth as well.
During a talk by a Native American woman, sharing about how she had been sent to a Dutch Reform boarding school and grew up alienated from her own roots, a young woman raised her hand and, with permission, began speaking.
She told us how her interests in shamanism couldn't be shared with her religious family and friends and that she felt so alone; no one to talk to; no one to share with. Several people went to her, kneeling on the floor next to her seat and spoke with her. During the break, I went up to this young woman and handed her my card, saying that if ever she wanted to talk, to call me. She said that sometimes she just needed a hug. I held out my arms and she stepped into them, our hearts touching.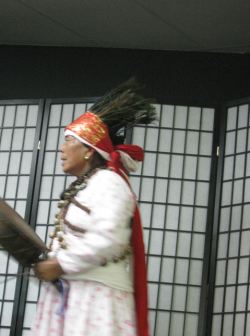 As I returned to my seat, a journal was put into my hands to write my information on the page. It was being passed around by a woman who felt moved to do this, so that we could stay in touch. We would be a community; distant, though we all were from each other geographically.
Tears, copal smoke, and a clear voice singing the directions all blessed me with a feeling of belonging. It was not a conference of lectures and note-taking, but an invitation to move more fully into one's own practice, and healing work seemed to be a theme. It felt like a coming together of kindred souls, new friendships deepening.
I left there with a renewed sense of community, of shared visions, and a re-meeting of a beautiful soul.
I'm looking forward to my invitation to participate again next year.
For more information: worldshaman.org

Jyoti Wind is an astrologer and writer. She has self-published six books: poetry, meditation and prayers; a childhood memoir; and several anthologies. Her new book is The Creative Arc: An Anthology on Writing. A mother, grandmother and great grandmother, she lives in Boulder, CO. You can reach her at [email protected]
Ed: Brianna Bemel