get elephant's newsletter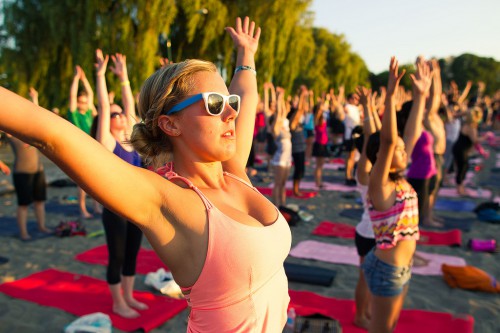 When I first started practicing yoga regularly, my least favorite poses were salambasana (shoulder stand) and plow.
Not because my shoulders and hamstrings were tight, but because whenever I would throw my legs behind me to come into plow, my voluptuous boobs would be thrown in my face and I would have a hard time finding my ujjayi breath.
It's hard to breath deep within the diaphragm when you've got boobs clogging up the nasal passages.
I know all the guys out there are thinking, how is that a bad thing? Every time a teacher would lead us into plow, I would cringe. Maybe that's the reason why I rarely teach plow and shoulder stand in my classes.
In the Western world, we rarely see images of busty and curvy yogis and we rarely talk about large breasts and how they get in the way of certain poses. It's strange that it's not brought up; more women than men practice yoga, but since men were the first to practice yoga, they didn't take into account how a bigger bust might affect certain poses.
Take for instance any forward bend. At some point you'll have cleavage in your face. And chaturanga, you've got the extra pounds in the chest so you're working extra hard to keep your shoulders back and heart moving forward. Heart and shoulder openers—we've got extra muscle to stretch. Up dog is a peep show for male yoga teachers. Flowing on the mat brought up all sorts of deep-rooted feelings about my curvy body that I hadn't really faced. It was now literally in my face!
I'm a little under 5 feet tall; in personality, I'm definitely over 6 feet tall, have a size 25 waist and wear a D cup. My body is definitely a little different than the yoga journal models. And nothing, not even a master cleanse or fast will make my Ds smaller.
I've had the same body type since I hit puberty. In school, I was made fun of for being busty. It was a hot topic amongst all the guys. Going to a small private school didn't make things any easier. So as a result, like most teenage girls, I developed insecurity about my body. Most girls at the time were insecure about their lack of cleavage. I was dealing with the opposite. I wore clothes that were way too big for me in order to cover up my curvy body. And luckily grunge was super in at the time so my signature tomboy flannel look was a hit!
As I got older, I felt unfeminine and clumsy, and grunge made its way out, so I needed to find a new look. In my 20s, I lived in Northern California so I was able to pull off the cute hippie look with oversized clothing/ However, when I moved back to L.A. in my mid to late 20s, I realized that something needed to change. I was in my prime, fit and healthy, yet I felt unattractive.
I started practicing yoga. At first, the boobs were always in the way. Finding clothes that fit was an issue yet again. No matter what I wore, there was always some cleavage that busted out. I don't think that sport bras were made for women who are larger than a C cup. The cute tops from Lululemon and Hard Tail are great and everyone that works there is so helpful, but honestly, every top I bought showed cleavage. My friends thought I was nuts! They would tell me over and over again that I looked fine and not to worry at all. Nevertheless, the mind is a powerful thing and our thoughts can dictate our reality.
As I got deeper into my practice, I realized that I did, in fact, feel feminine and graceful on the mat now. I even started to feel sexy! The cleavage started to bother me less and less and I started to embrace my feminine energy and shed the old grunge energy. Thank goodness! Being curvy was the gift I was given and my job in this life was to work with my body not against it.
I started to surrender instead of fight against my reality. As I surrendered, I felt confident and graceful as a practitioner and teacher. Now, when I step off the mat, I take my new-found freedom and energy with me as I flow through life. No more over-sized hippie look! (Okay, maybe sometimes.)
More importantly, my mind is free from my tireless insecurities. Now I have room to focus on creating wonderful things in my life instead of manifesting my fears. Of course, there are still moments where the cleavage gets the best of me—like when I demonstrate an up dog or adjust a student in a supine twist and then wonder why all of a sudden there are lots of dudes in my class. I actually caught a guy looking down my shirt when I was adjusting him in a supine twist. I never saw the guy again!
In a nutshell, throughout my yoga journey, I've learned many things and one of them is acceptance. When you step on the mat, whether you are tall and thin, curvy and voluptuous, short and stocky, petite or curvy, you've got to work with what you've got and build from there.
Once we accept our bodies and situations exactly the way they are, that's when we'll find bliss and enjoy our practice and life. Accepting my body as it is has made me a more understanding and compassionate teacher and practitioner.
This lesson has proven helpful recently when I started teaching a group of students who've never tried yoga before or exercised in years. Instead of forcing them to get into a pose, I encourage them to make the pose fit their unique bodies. And the feedback has been they've never slept better.
Now, instead of slouching and wearing an over-sized high neck t-shirt to hide my assets, I flow through life with my heart open wearing that super cute tank from Hard Tail. And as for shoulder stand, plow and forward bends, I'm getting better at finding my ujjayi breath.
Karen Kazanci is a yoga teacher, environmental conservation educator born and mostly raised in Los Angeles. She loves many things including her big and loud Armenian family, friends, her neighborhood and her work. She is passionate about music, art, culture, dance, travel, food, environmental conservation and of course yoga! She believes that a good laugh and smile can help heal the world.
Assistant Ed: Karla Rodas
Ed: Brianna Bemel