get elephant's newsletter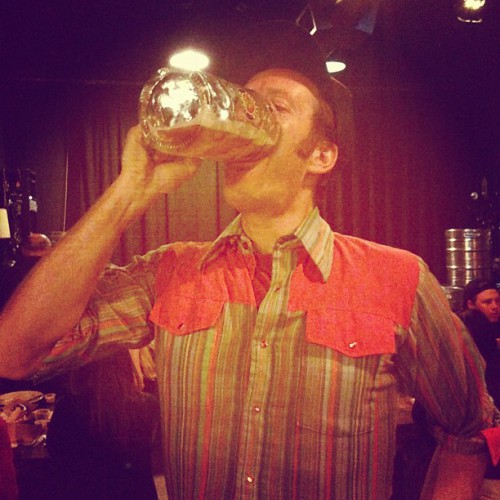 Bohemian Biergarten is a rustic beer garden located in the heart of downtown Boulder. Serving European Draft Beer, Pretzels, Sausages, Goulash, and more…

Happy Hour Daily 3:00 – 6:30: Brat, Fries, Kraut, Bread, Mustard, and a Giant Bier for $10
History
Established in 2013

Czech-owned and run.
10 Reasons Biergarten is the best thing to happen to Boulder lately:
I went last night for the first time—the Biergarten's first Saturday night. It was packed, line out the door. I met Virginia and her BF and a friend, Lindsay of Chasing Ice/formerly of elephant, and my pals Duzer, Christopher, Jeremy and his two pals, and then a Buddhist contingent of five (it's Boulder). Within minutes we were drinking, singing (loudly) happy birthdays to people, shouting football songs…it's that kind of place. Happy.
1. It's huge. Well, big. Boulder's lacking clubs. This venue can handle hundreds comfortably, bringing together a wider swath of Boulder community—young and old, college and professional, whatever—than just about any venue except for Shine, Kitchen Next Door.
2. The renovation is incredible. It's a historic building, and it's been extensively gutted and renovated…making it look older, European, in a good way. I held my talk show in that space (when it was Trilogy, whose owners started Shine next door and are intimately involved with Biergarten) for years and knew it backward and forwards…and while it's familiar, layout-wise—big space in the front with patio, bar, walkway with bathrooms and big space and music venue/stage in back) it feels like a completely new / timeless space. I thought, for example, that one of the masonry archways was exposed brick…but no, they're new. The renovation quality and details are out of this world. It feels, as many noted, like you've left Boulder.
3. The beer. Is good. I hardly drink beer and I drank a ton (and felt fine in the morning). And you can get it in liters (I tried to chug an entire one in front of hundreds when I first came in, just about succeeded).
4. The staff and crew is a big, hip, fun, kind family. They're Czech–they know their biergartens. The place has a very masculine, macho vibe…I'll be interested to see if they can keep macho + beer from = alley brawls.
5. I'm vegan, so won't be able to eat much there (I think the pretzels might be vegan), but the food is supposed to be awesome. I'm interested to see what, if anything, is local, eco-responsible…the place is awesome, and I hope they walk their talk.
6-10: I missed the opening (well, wasn't invited, I'm a bad man) and have yet to tour, so I don't know much detail about the place, as press and a boy who loves Boulder I can say this is the biggest thing to happen to our scene (foodiest town in the US) since…Shine, next door.
I'll be going back to 13th Street. Frequently.