get elephant's newsletter
Note: The author was given a free version of this eBook. However, all expressed viewpoints, positive and negative, are that of Amy, and Amy alone. Read on!
The moment I opened up the Yoga Resource Practice Manual by Darren Rhodes, I was impressed.
The manual is simplicity at its best, with straightforward instructions and great use of graphics and fonts that are eye-pleasing. The eBook also makes excellent use of links, enabling the reader to easily navigate the pages. For those looking for a yoga manual that is easy to use, informative, true-to-form and with outstanding photos, then this is it.
The photographs are stunning and give an accurate depiction of each of the 360 postures covered in the manual. The poses are organized by type (standing, forward folds, backbends, etc.) and each posture is described using three categories: shape, safety and refinement. Shape provides brief, but clear, instructions for moving into the pose, while safety and refinement give essential alignment cues. I appreciated that the author included links to other poses when describing the shape of a posture in order to give the reader a clear picture of how the poses connect to one another.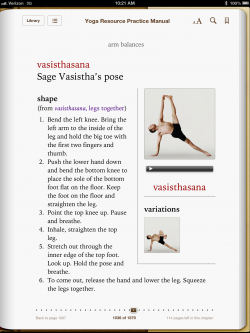 Another great feature of this eBook are the Sanskrit pronunciations offered under the photo of each pose. Simply click the arrow under the picture and listen as a Sanskrit speaker articulates the selected word. This is especially helpful to new teachers or teacher trainees still learning the Sanskrit terminology.
My favorite multimedia option of the manual is the video library that offers short videos describing proper alignment of select postures and sun salutation vinyasas. The video of sarvangasana I, shoulder stand, which demonstrates the necessary use of props when practicing this pose, is worth the price alone, particularly for beginners and new teachers.
I enjoyed catching momentary nuggets that Darren shared throughout the text. Every now and again you'll find him sharing personal experiences about a particular pose, showing his humanity and his yogic wisdom at the same time—like this golden moment:
"For what it's worth, creating sacred space can turn the impossible into a possibility. For example, during one of the last photo shoots for the From Tadasana to Savasana poster, I was attempting valakhilyasana—which I like to call Kali-kill-u-asana. I was able to get my back toes on the floor. I wasn't, however, able to get my shin and the top of my foot to the floor. After many attempts I concluded without a shadow of a doubt that THAT asana was impossible for me. My friends in the room assured me I could do it. But how the hatha-hell would they know? I knew there was no way, no chance. In a state of defeat I gazed at a photo of Bhagawan Nityananda, a great yogi saint. I had put that photo of Bhagawan Nityananda on the puja (altar) that morning to inspire me. As I gazed at Bhagawan Nityananda, I felt my awareness soften. I started to feel a powerful energy that took me into a realm of my heart I had never been—what felt like a wellspring of possibility. Then, like moving from the depths of water back to the surface, my awareness rose back into the room. In that short period of time I went through a deep inner shift. I turned to Milo with a smile and said, "I can do it." As I went into the pose all the previous obstacles were still there. Only now, instead of a stop sign, it was a yield sign. Instead of a red light, it was a yellow light. The deep recognition that I could do it kept me guru-going all the way into the final form."
It goes to show you that even the most well-trained teachers still struggle with the same self-doubt as the rest of us. His honesty let me know I was in good hands as I read through his compelling selection of poses.
One disappointment about the eBook is the inability to search for a posture in the index by the English term, as it's only alphabetized by Sanskrit titles. It could be difficult for the user to navigate the index if they are unaware of the Sanskrit terms for all 360 poses listed in the eBook. You can search for the English term under the search feature on the i-Pad version, but many users may instinctively turn to the index first.
I would have also liked to see a section under each pose dedicated to contraindications, alerting those with specific injuries and illnesses to avoid certain postures.
Finally, I found the video library to be a great addition to the manual and would suggest an expanded video library in future editions. The library is an excellent resource for those new to the practice or new to teaching and additional videos would only enhance the manual's already stellar effectiveness.
I have yet to find an eBook that rivals the Yoga Resource Practice Manual. It is a thoughtful and well-designed approach to a yoga manual that has the user foremost in mind. It doesn't disappoint and would make an excellent yoga reference book. I highly recommend this eBook as a welcome addition to any yoga practitioner's library.
The Yoga Resource Practice Manual is currently available on Apple iBooks as well as on inkling.com. For more information, visit Yoga Resource Book. 
Photos by Michael Longstaff
Ed: Kate Bartolotta