get elephant's newsletter

It's summertime and the livin' is easy—well, a heck of a lot easier than trudging through a snowstorm in the dead of winter, that's for sure.
Sunny skies, cutoffs and swimming holes are here, waving the flag that July 4th weekend is close!
Many Americans will be expressing their patriotism by popping beers, firing up the BBQ and hanging out with loved ones on stoops, decks and backyards across the Nation.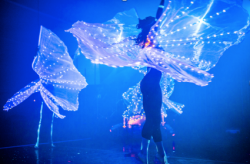 For some, this may be paradise, but for others (ahem, you know who you are), this may not be their cup of tea, especially if that cup of tea is Runa and you like a little Namaste in your life.
So spill it—what's your dream way of celebrating this holiday weekend that's both rejuvenating and fun? How does yoga everyday, nature hikes, massages, live music, activities for your kids, local and organic meals, amazing wine (the list goes on) sound?
Wanderlust is on the same page, which is why they work super hard to create an experience that hits all the yummy pleasure points a yogi could ask for.
This year celebrate the traditional elements of 4th of July but in a way that reflects who you really are and what you actually love to do. Below are 5 reasons why going to Wanderlust Colorado this summer will rock your holiday weekend.
The 5 "F's," here we go!
1. Fun: Wanderlust Colorado is your oyster.

Walk barefoot in the wild for sunrise and sunset hikes through the mountains, exploring the local flora and fauna, in silence or with live music. You can also sweat it out by dancing to an array of incredible music performances or take a yoga class with some of the top teachers in the world! For when you need to just chill, check out a beautiful film complete with Q&A with the director and attend a mindful talk from the Speak Easy Lecture Series. There is also a healing village where you can get massages, a beautiful market where you can adorn yourself with one-of-a-kind garb, such as yoga apparel, beauty products, jewelry and feathers. More details here.

Wanderlust Colorado is extremely family friendly. If you have little ones in tow they can participate in a 4th of July Parade where they'll be guided to decorate their bike, skateboard or roller skates with recycled materials such as newspaper, egg cartons and water based paints. After they pimp out their rides, they'll get to roll through the village led by the local fire department and show off their amazing creativity.

There will be an all day festival with several fun activities, entertainment and workshops including hula hoop making, juggling, stilts, poi, murals and face paint.  Kids can also explore mini golf, Go Karts, wall climbing, ziplining and paddleboats. The day will go out with a bang as a theatrical pyrotechnic show dazzles with colored smoke, sparking effects and many more surprises. Don't you kinda wish you were your kids right now? More details here.

Just think the most outrageous light show you've ever seen with incredible DJ's, aerial dancers, firehooping, AcroYoga you name it! You will be awed and amazed, no doubt. More details here.

4. Food and Drink: Farm to Table Dinner

&

Winederlust

Celebrity chef Hugh Acheson and ONE have teamed up with Wanderlust to provide a local and organic African meal with vegetarian, vegan and gluten-free options. More details here.

And don't worry, it will still feel like 4th of July weekend. You will be able to booze it up—Winederlust is here. After a long day of play you will be able to try wines from local, organic and biodynamic wineries, while listening to live music. We are pretty sure you will be smiling ear to ear as you ease into your evening.

More details here.

5. Freakin' Independence baby!

What better way to spend Independence Day than spending time with people you love (or meeting new friends!) engaging in activities that help to free your spirit and nourish your soul.

Wanderlust CO runs from July 4th-July 7th at Copper Mountain, Copper, Colorado. Need more details? Check out everything you need to know here.

Ed: Bryonie Wise